FOR IMMEDIATE RELEASE
Media Contact: Lisa Morales, allegorypr@gmail.com
Miami, FL…January 9, 2018…Wynwood Oven in collaboration with Wine by the Bay, is pleased to announce its first wine pairing dinner of the New Year. True to its motto, "Unconventional, Italian Heritage," Wynwood Oven presents a unique menu alongside a tasting of the single vineyards from Masi Amarone.
The dinner will take place on Tuesday, January 16, 2018 from 7:00  to 10:00 p.m. at Wynwood Oven, 2085 NW 2nd Avenue, Suite 105, Miami, FL 33127. An advance ticket purchase of $115.00 per person is required by calling (305) 573-5155 or visiting www.winebtb.com/events. Seating is limited.
In the 1950's, Masi was a pioneer in establishing the cru or "single vineyard" concept in Italy. Masi Agricola combines traditional and technology, or what owner Sandro Boscaini calls, "modern wines with an ancient heart."
"These are unique and particular wines. They should create a sense of friendship, history and culture," states Boscaini in the short film, Masi a Story of Values and Passion. "The Veneto's values are here in Venice and are revealed by the colors, the particular light, its art and culture. This is the great culture of Veneto: the same culture that can be found in our wines."
Join Mauro Maugliani, Italian Brand Specialist, Southeast United States, Kobrand Corporation who will guide guests through a five-course epicurean adventure:
Masianco Pinot Grigio e Verduzzo delle Venezie with Mignonette oyster
A fresh white wine, aromatic and fruity in style; the unmistakable result of combining Pinot Grigio delle Venezie with the Appassimento technique, Masi's specialty.
 Amarone Costasera
Riserva di Costasera Amarone della Valpolicella Classico​ with Taleggio cheese and spicy fruit mostarda
Proud, majestic, complex and exuberant: this is a special cru version of Masi's gentle giant, Costasera. The expert use of indigenous grapes for the Valpolicella Classica area – Corvina, Rondinella and Molinara – is enriched by the addition of the unique Oseleta, a grape variety rediscovered by Masi.
Amarone Serego Alighieri Vaio Single Vineyard with Pappardelle with porcini mushrooms and aged Parmesan cheese
Serego Alighieri Vaio Armaron Amarone della Valpolicella Classico with a wild boar ragù and polenta
These wines are icon wines of the historic Serego Alighieri estate and comes from the eponymous vineyard, the source it seems of the very name Amarone itself. Its elegant personality is enhanced by the use of the Serego Alighieri clone of the Molinara grape and by ageing in cherry-wood casks, as family tradition dictates.
Mazzano Amarone della Valpolicella Classico with "50 Shades of Cheese" plate
Mazzano is an austere and majestic wine, the prototype for Amarone. The grapes come from the eponymous vineyard, famous for the quality of its produce since the XII century, and are laid out in traditional drying lofts during the cold winter months.
About Masi Agricola
Masi earned the "Winery of the Year" title in the Three-Glass Italian Wines Guide 2018 from Gambero Rosso,
With its deep roots in one of Italy's best wine regions, Valpolicella, Masi makes quality wines that are an expression of the values of their territory of origin. Principally using native grapes and indigenous methods for the Venetian territories, Masi makes what Sandro Boscaini, the guiding light in the company, likes to call "modern wines with an ancient heart", using constant technological updates. Today, Masi is a leader in the production of Amarone and has acknowledged expertise in the Appassimento technique.
Grape Appassimento is the traditional method used in the Venetian regions to concentrate aromas and tastes in wine. The grapes are laid out on bamboo racks in drying lofts for the winter period before vinification. This is an ancient technique, in operation for centuries in the area, the art of which has been passed down the Boscaini family and employed in an innovative fashion by the Masi Technical Group to make modern wines from semi-dried grapes, above all, Amarone.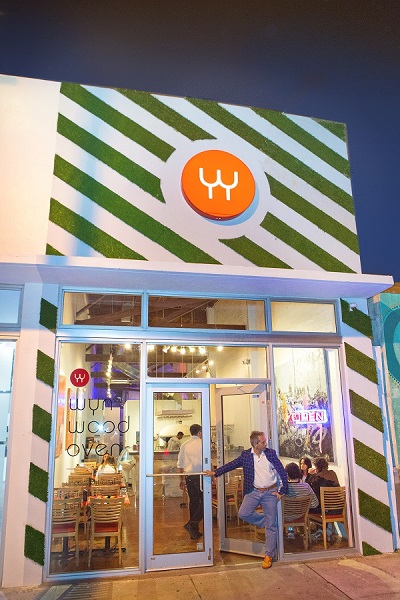 About Wynwood Oven
Inspired by the neighborhood Italian enoteca, Wynwood Oven (nicknamed WYN that plays on words "wine" and Wynwood) presents a casual ambiance to share and enjoy new experiences. The restaurant offers a superb and animated wine list that complements a carefully curated menu of imaginative dishes, inspired by Italian heritage. Discover the art of gastronomy through the lens of a wine-centric menu!
Wynwood Oven
2085 NW 2nd Ave. Suite 105
Miami, Florida
(305) 573-5155
welcome@wynwood-oven.com
wynwood-oven.com
@WYNWoodOven #WYNWoodOven
MASI Amarone Dinner: Tuesday, January 16, 2018 from 7:00-10:00 p.m.Seating is limited. Advanced ticket purchase required.
Cost: $115 per person
Ticket URL: http://ow.ly/2Qwx30hCz6s
Facebook Event: https://www.facebook.com/events/2009144789343567/
Photos by Request:
1> Sandro Boscaini, Owner of MASI Agricola
Courtesasi Agricola; Kobrand Corporation
2> Wynwood Oven owner, Stefano Campanini/Exterior Shot
Photo Credit | Michelle VanTine Photography
 3> Pappardelle with porcini mushrooms and aged Parmesan cheese
Courtesy Photo | Wynwood Oven 
4> Wynwood Oven dinner guests
Photo Credit | Michelle VanTine Photography
###