Here we are, Week 5 (or longer) of the stay-at-home order and begrudgingly accepting our new norm. One thing I know is that I'm learning to be more resourceful. Nothing goes to waste and everything gets added to the pot, so to speak.
Tip: To limit how many times that you need to visit the grocery store, make sure you buy two types of vegetables or fruit: short and long-lasting. I go through things like spinach near the beginning of the week and leave the less-perishable ones for later. Here's a good guide to some long-lasting choices.
For this week's "Feeding Five Under 25 $," it's back to basics and business. Here are a couple of fast and easy breakfast recipes that you and your loved ones can grab and go. Okay – not grab and literally go, but get on with the day from the desk at home.
Using oats makes both recipes gluten free. Use an egg substitute and non-dairy milk product to make them vegan.
Baked Banana Oatmeal Cup Recipe (found on YouTube)
3 cups rolled oats
2 teaspoons baking powder
1 teaspoon cinnamon
1/8th teaspoon ground nutmeg
1/2 teaspoon kosher salt
1 cup mashed banana (2-3 bananas depending on their size)
2 pastured eggs
1.5 cups of unsweetened almond milk (or any milk you prefer)
Craisins (or any dried fruit)
¼ Lily's Dark Chocolate Baking Bar crushed into small chunks
Preheat oven to 350 degrees F.
Spray a 12 cup muffin tin with cooking spray or coat with coconut oil or butter.
In a large bowl combine oats, baking powder, cinnamon, nutmeg, and salt.
In a separate bowl mix together mashed bananas, eggs, and milk until well combined.
Pour milk mixture over oat mixture and stir well to combine.
Evenly divide the oat mixture between all 12 muffin cup and then top each one a piece of chocolate and a few craisins.
Bake for 20-25 minutes or until set and cooked through. Allow to cool and then store in an airtight container in the fridge for up to a week.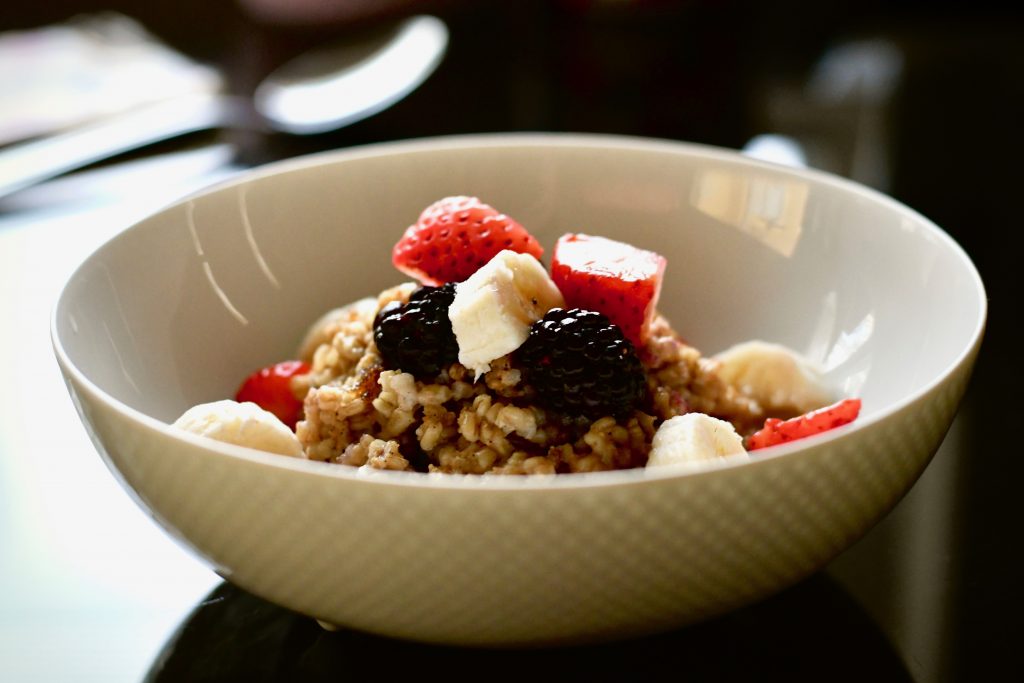 Baked Steel-Cut Oats with Sunflower Butter (adapted from NY Times Cooking)
¼ cup sunflower butter (you can use peanut butter or almond butter, but I needed a nut-free version)
3 cups boiling water
1 cup steel-cut oats
Cinnamon
Pinch of Salt
Fresh or defrosted frozen fruit for serving.
Preheat oven to 350 degrees.
In a medium shallow casserole or baking dish, combine 3 cups boiling water and the sunflower butter and stir until smooth-ish. (Don't worry about a few lumps.) Stir in oats. Season the mix with a big pinch of salt, and some cinnamon or nutmeg if you like.
Cover with foil and bake for 1 hour, stirring halfway through. Taste and if the oats aren't cooked enough, let it bake for 5 to 10 minutes longer.
Garnish with fruit and serve. (There's no sugar in this recipe so add honey or a raw sugar if you need this dish sweetened.)
Helpful Resource
Health Benefits of Eating Oats
I know it's getting tougher by the hour and there seems to be no end in sight. Although the stress level is high, let's try to keep it in check, be considerate, and…
What nicer thing can you do for somebody than make them breakfast? ~ Anthony Bourdain
If you make these recipes, be sure to post a photo and tag me on Instagram.
@AllegoryPR #MyArtEscape