Roast Pork Loin with Apricot Sauce Recipe Paired with 2015 Jean- Baptiste Riesling Kabinett by Weingut Gunderloch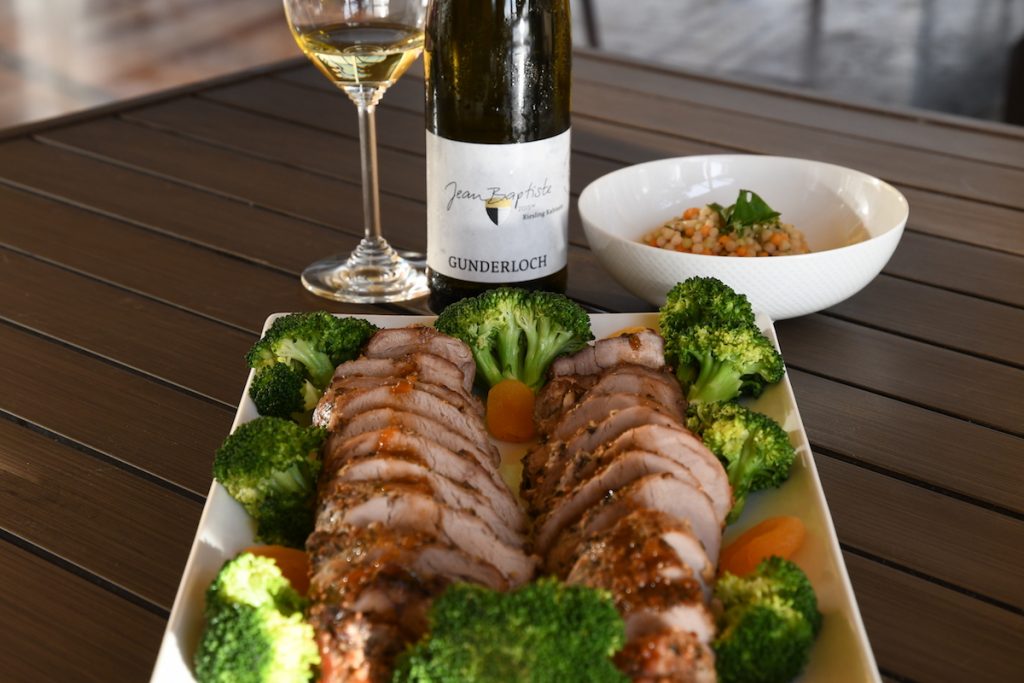 Today's recipe and pairing wine is taking me out of my comfort zone. This Roast Pork Loin with Apricot Sauce recipe nicely complements the 2015 Jean- Baptiste Riesling Kabinett by Weingut Gunderloch and is a perfect Sunday meal that will give you more time to relax than spent in the kitchen.
How Do You Like Your Wine?
Typically, I like white wines that are bone dry and red wines with some 'oomph.' When it comes to food, I prefer dishes that are savory and avoid anything sweet that goes alongside them like turkey with cranberry sauce.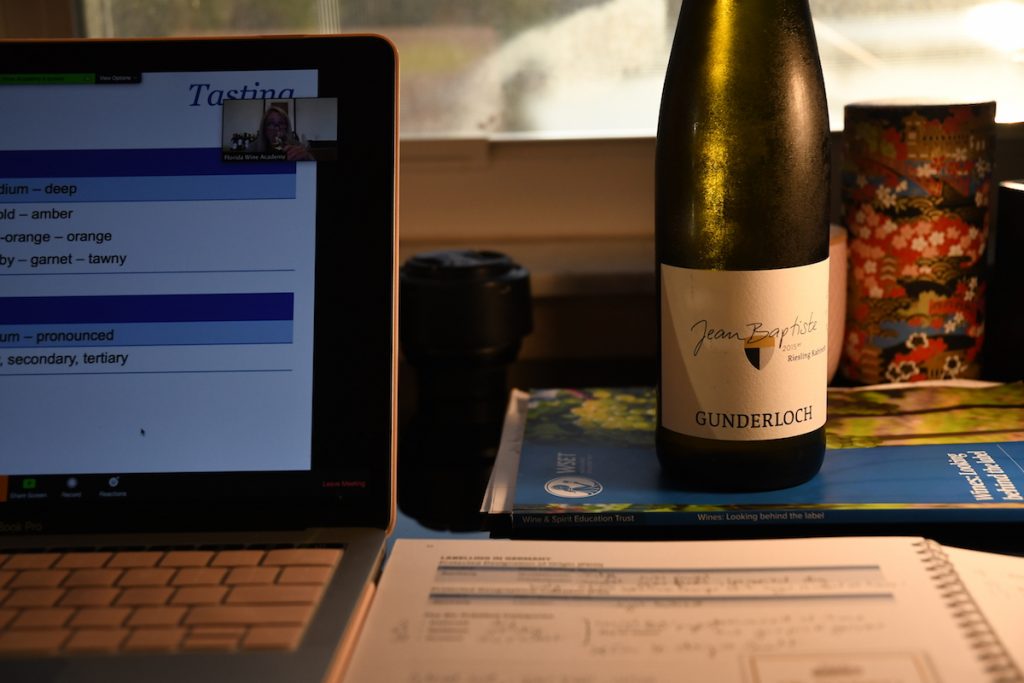 Just like last week, I still have my nose in a glass and in a pile of books. If you're not making these recipes, scroll down for some Weingut Gunderloch history and some introductory German wine vocabulary too. 👇🏼
Roast Pork Loin with Apricot Sauce (The Spruce Eats)
1/2 cup chicken broth
1/2 cup soy sauce (low sodium)
3 small cloves garlic (minced)
1.5 tablespoons dry mustard
2 teaspoons dried thyme
1 teaspoon ground ginger
1 boneless pork loin roast (about 4 1/2 pounds)
For the Apricot Sauce:
10 to 12 ounces apricot preserves (1 1/4 to 1 1/2 cups)
2 tablespoons chicken broth (or dry sherry)
1 tablespoon soy sauce
In a large food storage bag or glass bowl, combine 1/2 cup chicken broth, the soy sauce, minced garlic, dry mustard, thyme, and ginger.
Add pork roast, turning to coat well.
Cover and refrigerate for 4 hours, turning occasionally.
Remove pork roast and discard the marinade.
Heat the oven to 325 F.
Place pork roast, fat side up, on a rack in a foil-lined roasting pan.
Bake in the preheated oven, uncovered, for 1 1/2 to 2 hours, or until a meat thermometer or instant-read food thermometer registers at least 145 F when inserted into the center of the roast.
Remove the roast from the oven, tent loosely with a sheet of foil, and let it stand for 15 minutes before slicing.
Apricot Sauce
Meanwhile, in a saucepan over medium heat, combine the preserves, 2 tablespoons of chicken broth or sherry, and 1 tablespoon of soy sauce.
Bring the sauce to a boil and turn the heat to low. Simmer for 1 minute.
Slice the pork loin thinly and serve it with the apricot sauce.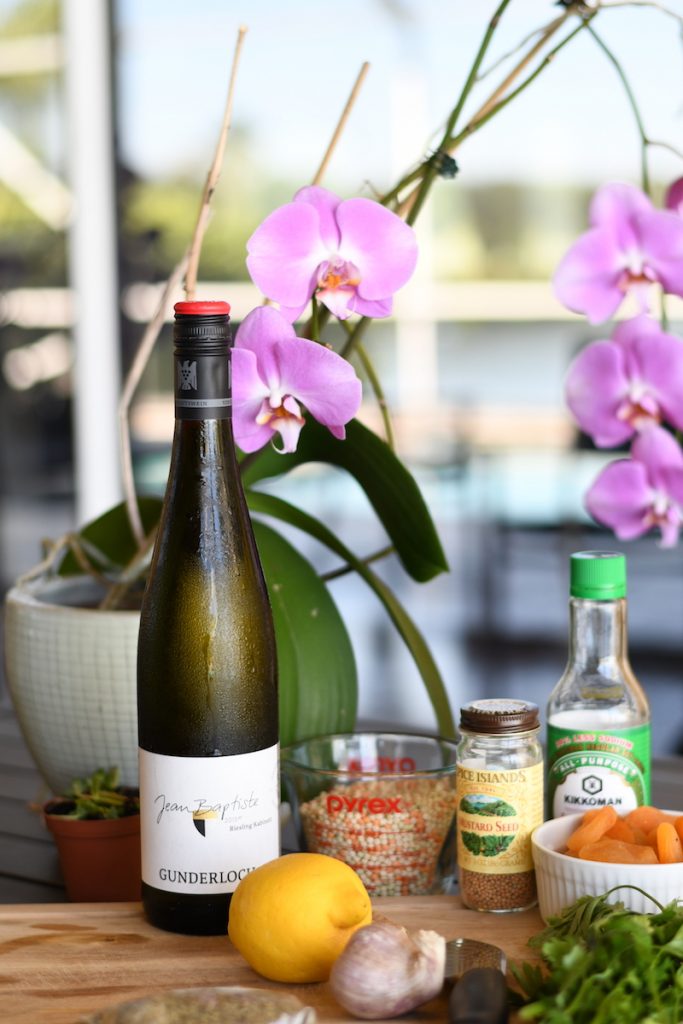 The Wine: 2015 Jean- Baptiste Riesling Kabinett by Weingut Gunderloch
The Weingut Gunderloch vineyards are in an area called Roter Hang which means 'red slope' and located in Germany's Rheinhessen, Germany's largest wine region. This area had been known for producing average wines, but this reputation is being redefined by wineries such as Weingut Gunderloch. You can find out more about this area here, but to put it into a better perspective, I suggest that you watch this video.
I found this wine at Wine by the Bay in Miami and a great write-up with descriptor here. I'll dive briefly into Riesling and sweetness below, but here are Tim Lemke's notes:
"The nose is powerfully floral and lemony. It smells absolutely wonderful. The palate offers crisp lemon, apple and peach flavors with good balance, perfect acidity and a pleasant mouthfeel. It has plenty of fruit, and is more tart than sweet. The finish is plenty long, and features lingering peach flavors. This is a pretty tasty Riesling."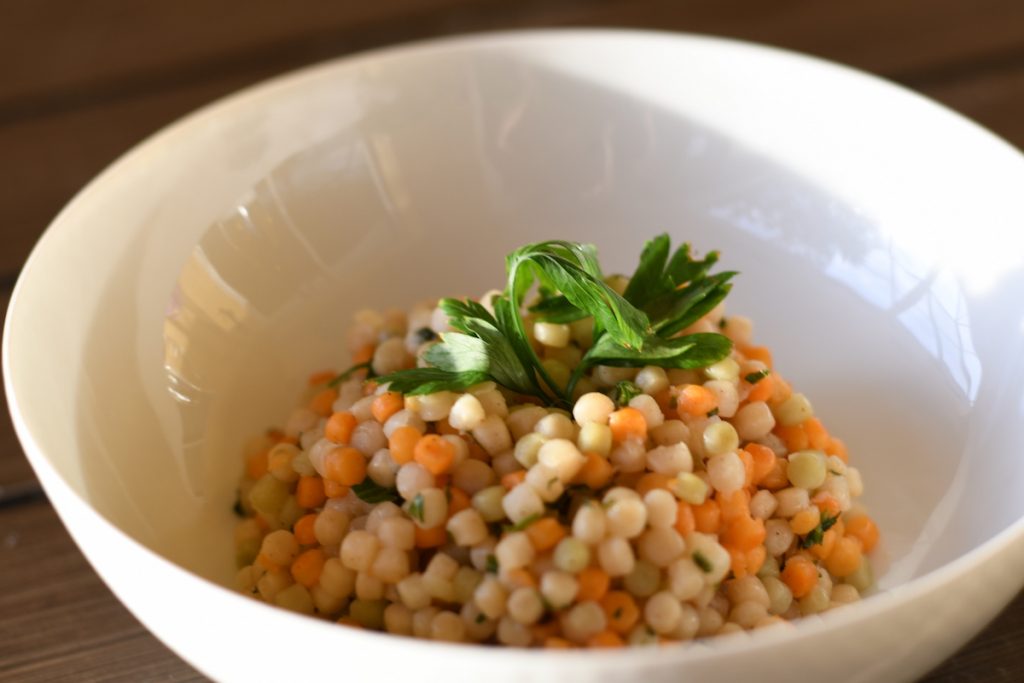 Just How Sweet is Sweet?
As Tim Lemke describes, the 2015 Jean- Baptiste Riesling Kabinett is somewhere between dry and sweet. That hint of sweetness means that it pairs very well with the Roast Pork Loin with Apricot Sauce. Although designated as "Kabinett," I feel that this wine is much more complex than the definition of Kabinett implies. Possibly, the aging in this case made the difference and Wine Newbie me feels like it drinks more like a Spätlese. If you disagree, feel free to leave a comment at the end. 👇🏼
Speaking of sweet, if you're practicing for the WSET 2 exam and struggling with the Riesling classifications, here is a short breakdown of some of the things we must know: "Sprechen Sie Deutch?"
Landwein: Table wine and generally low quality. Like the category, "Protected Geographical Indication" it means that there are regulations in place.
Qualitätswein: Like the category, "Protected Designation of Origin." Read more here.
Prädikatswein: Same as, "Protected Designation of Origin, but" this category is divided into subdivisions by levels of ripeness (sweetness.) I found it hard to memorize at first, but generally with repeated practice, it began to register:
Kabinett: Usually light wines made of fully ripe grapes.
Spätlese: Literally means "late harvest" and are more intense in flavor and concentration than the latter categories.
Auslese: Select picking of very ripe bunches.
Eiswein: Ice Wine – Wines of at least BA intensity are harvested while frozen
Beerenauslese (BA): Berries Select Picking – Individually selected, overripe berries.
Trockenbeerenauslese (TBA): Dry Berries Select Picking – Individually selected, overripe berries that are dried up on the vine, almost to raisins.
Refer to this link for more details.
Neither the wine or this recipe would have been at the top of my "kitchen lab" list, but I needed to try Riesling as part of my wine education journey. I enjoyed getting out of my comfort zone. And, once again the wine inspired the dish. There are many "Reasons for Riesling" and future wine pairings too!
"Life begins at the end of your comfort zone." Neale Donald Walsch
@AllegoryPR #MyArtEscape