It's Foodie Friday and unlike last week, I've eased back into routine ready to tackle deadlines and a long 'To Do' list. Although the memory is far from my taste buds, through the joy of social media I can savor and share with you another yummy experience.
Speaking of social media, I have a love/hate relationship with it. While for years I've valued its marketing potential, affordability and used it long before many others did (and nah nah to all of those people who thought I had nothing else to do with my time), I feel it imposes on private me.
Our decision making in so many ways, is formed by social media, whether you're a: 'I've got nothing to hide' user like me who likes, comments, follows and unfollows every day: or those silent stalkers (what I like to call them), who claim they don't have time or like social media, but have an active account and silently watch what everyone is doing all of the time. Which one are you?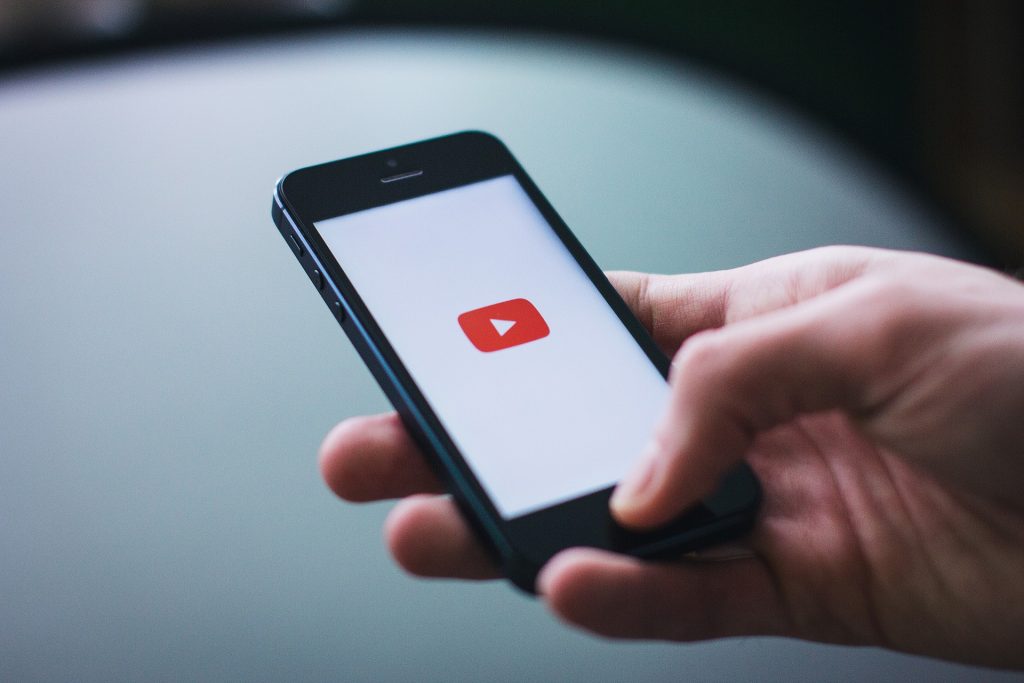 While preparing for the trip to Spain, I turned to YouTube rather than reading travel blogs because after spending a whole day reading and writing, it was nice to just let pictures and sound fill me with information. Plus, how great is it to know that there's so much more to watch about travel than Rick Steve's Europe? A lot of my travel decisions were influenced by Devour Tours co-founder James Blick and wife Yoly. The two of them are so cute, so if you are not familiar with their YouTube channel, Spain Revealed, check them out!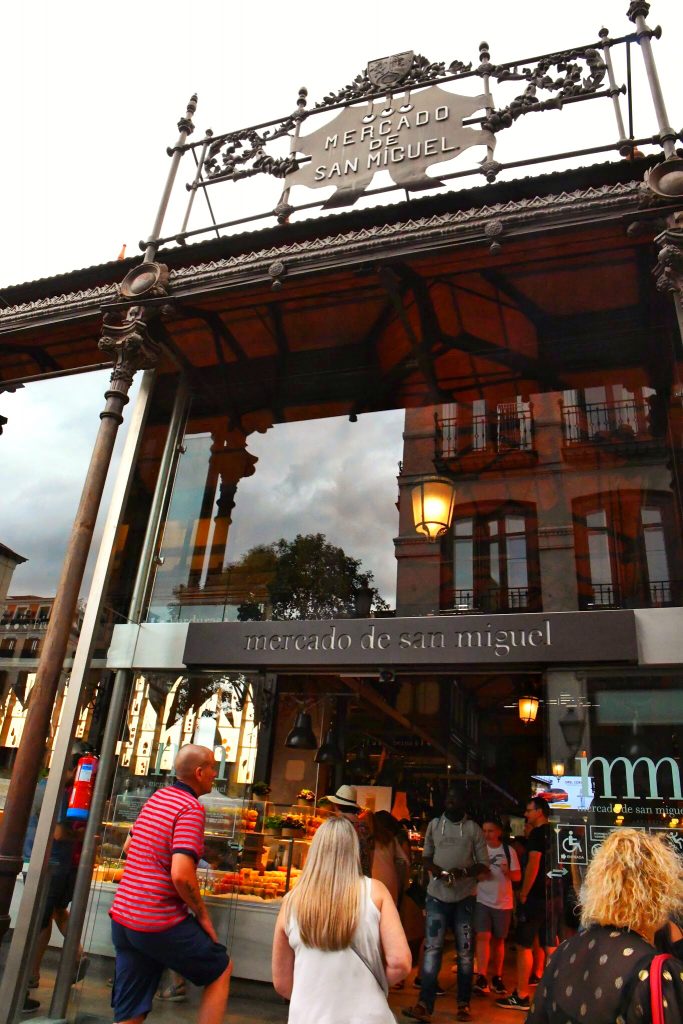 Because of all the hype, I was debating whether or not to visit tourist infiltrated, Mercado de San Miguel. If you read my last blog post, you'll know that I greatly enjoyed visiting the humble, Mercado Anton Martin. However, since I planned to visit the Royal Palace of Madrid and Plaza Mayor anyway, I figured that a good lunch stop would be nearby, Mercado de San Miguel.
Note: For me, Google Maps did not work in Madrid. Whether, it was tech ignorant me or because everything in Madrid is an abundance of circles (or maybe squares,) using my phone for directions seemed to get me where I needed to be, four times longer than it should have. After two days of trying, I just parked the phone and relied on remembering landmarks and talking to people. Besides, the old fashioned way is so much nicer. Get your face away from the phone and enjoy getting a little lost because asking for help in Madrid, seems to always turn into a nice, five minute conversation.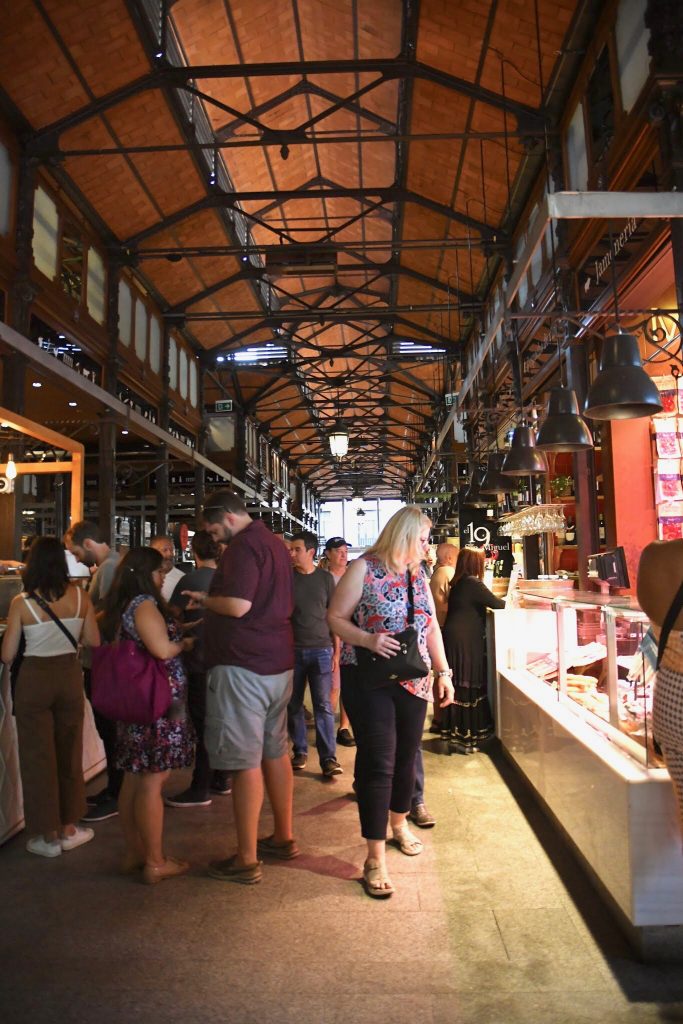 Like I said in my last blog post, it's good to enjoy getting comfortable with standing room only and that's all you'll get when you visit Mercado de San Miguel. However, that is a large part of the experience. Food and social gatherings are synonymous in Madrid. And while millions of us share our food experiences on social media to connect with others, here is the ultimate, in person, communal opportunity. The energy is impressive and contagious. Although they must answer the same questions every few minutes, the vendors treat each customer courteously and share their joy of food with speed and efficiency.
And when eating in Madrid, as the travel experts also claim, you can find great quality food and better prices elsewhere. Unless it's something you really can't do without, I suggest you avoid those 15 Euro tapas. However, to not go would be a shame. Plus, here's a place where it's totally okay to pull out your camera and capture every moment — just be courteous of others who want to get up to the counter just as much as you because they're hungry. Things move very quickly and I greatly enjoyed this rhythm and pace. Don't miss it!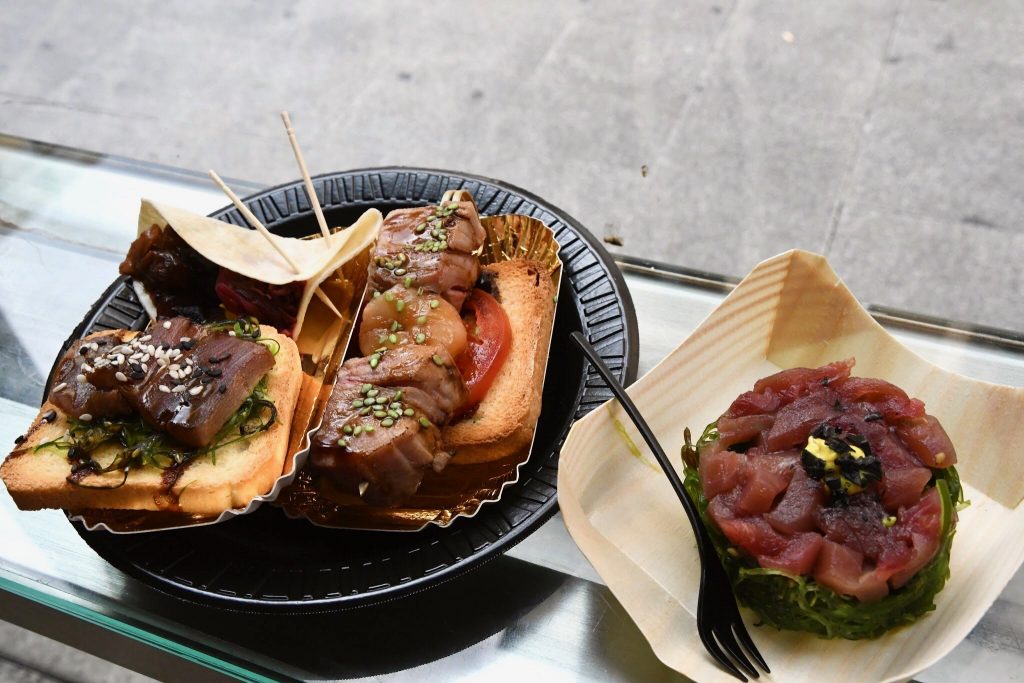 Tip: You can buy a glass of wine (or another libation) and walk around with it to as many stops as you like. Just don't linger and eat at a stand where you didn't buy any food. The outer perimeter of the market is lined with a glass counter with enough space for your small plate and glass. Again, elbow room only makes for a great social experience and 'yum' is the international language!
Here's some of the highlights: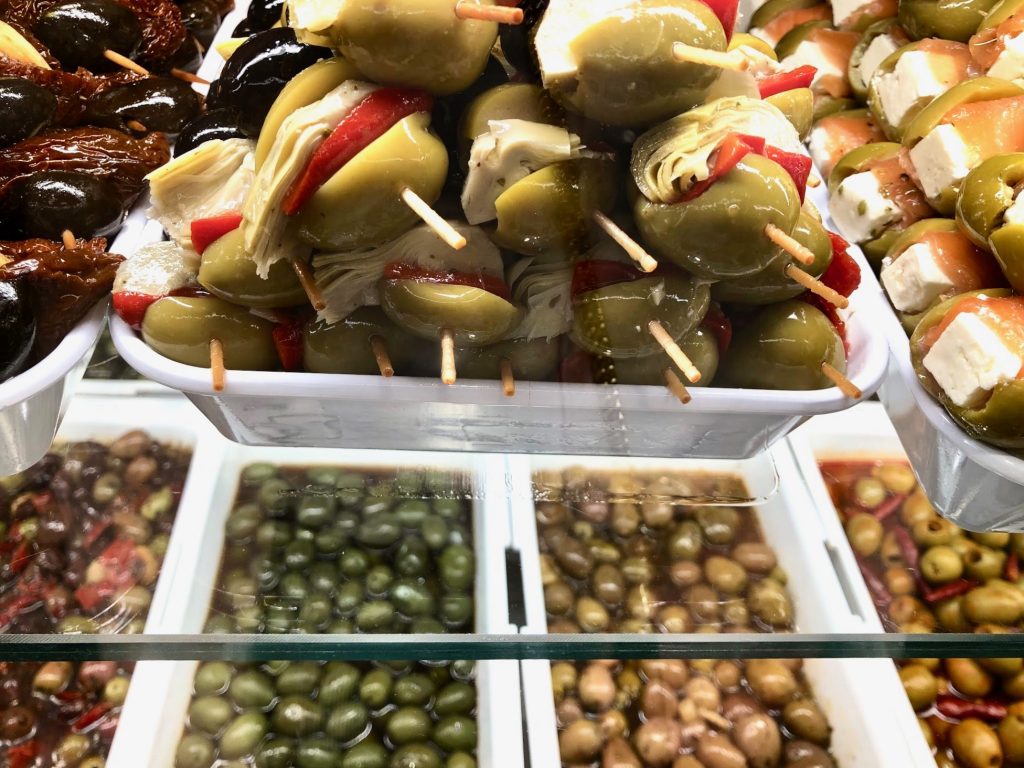 La Hora del Vermút: If you know me, you know that I don't really drink. Ha, you may exclaim after checking out my Instagram. Me and alcohol don't really get a long, so I limit even the amount of wine I drink and it's consumed almost always with a meal.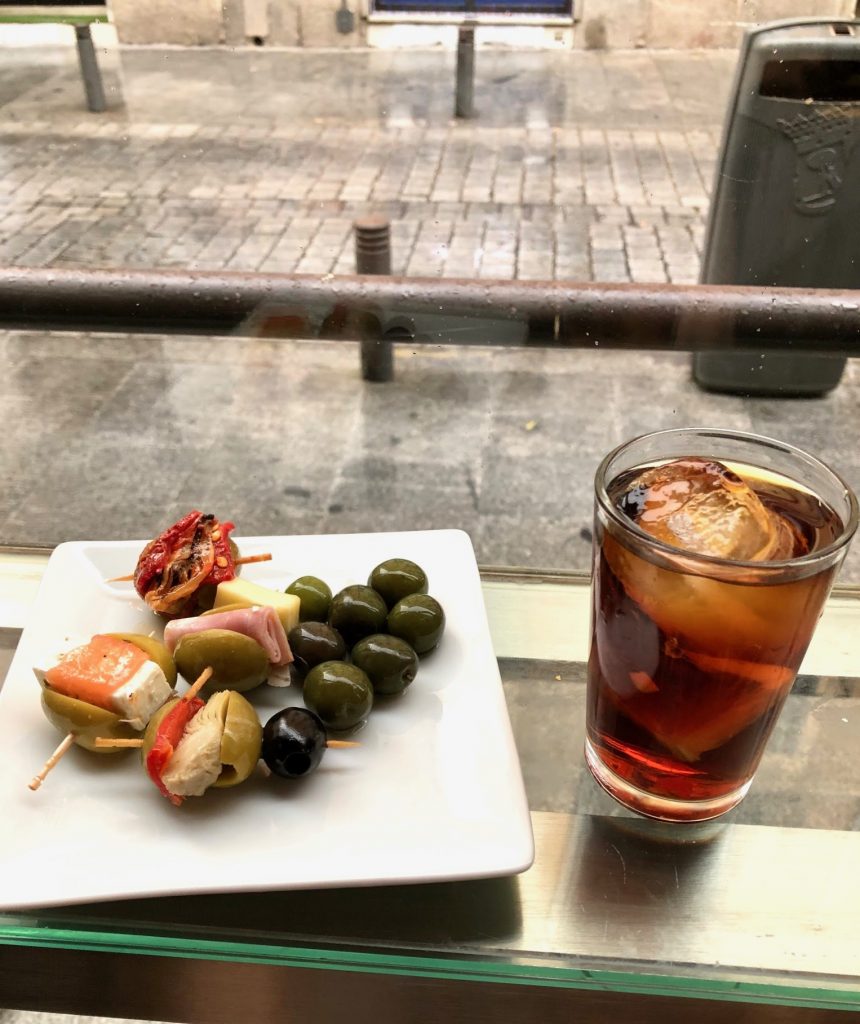 I must thank James Blick for having me try something new. Spanish Vermouth is a must-try when in Spain and I had a dry option with some delectable olive tapas at La Hora del Vermut. Make it your first stop.
Read more about Spanish Vermouth here.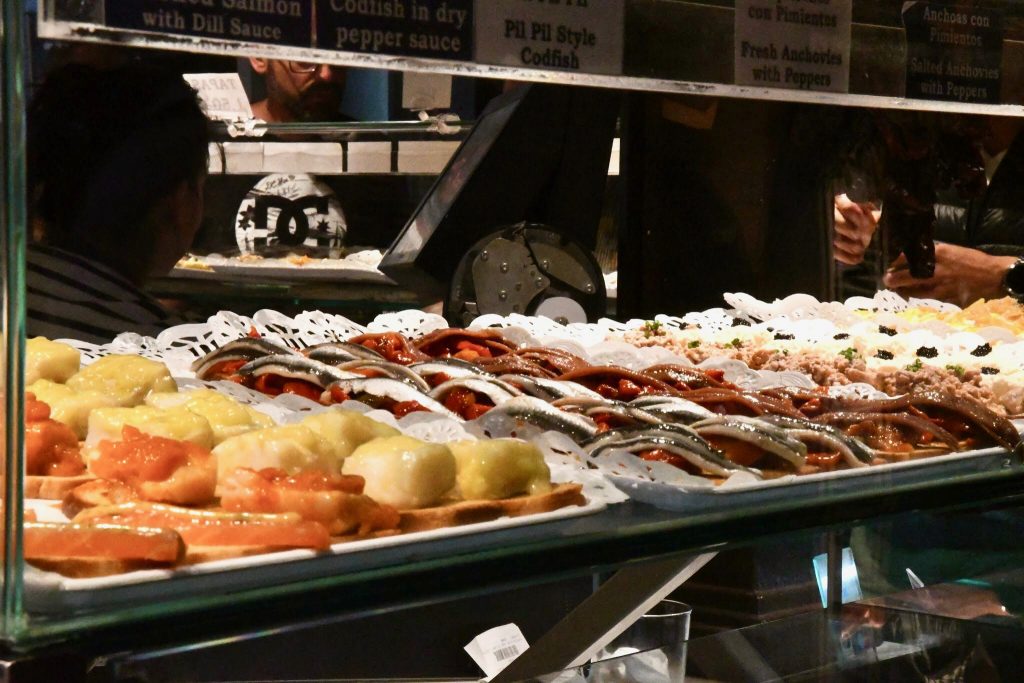 La Casa del Bacalao: Unless you hate fish, you must visit La Casa del Bacalao. Aesthetically pleasing and flavorful, try a variety and you'll be satisfied with a nice selection of tapas for about 10 euros total.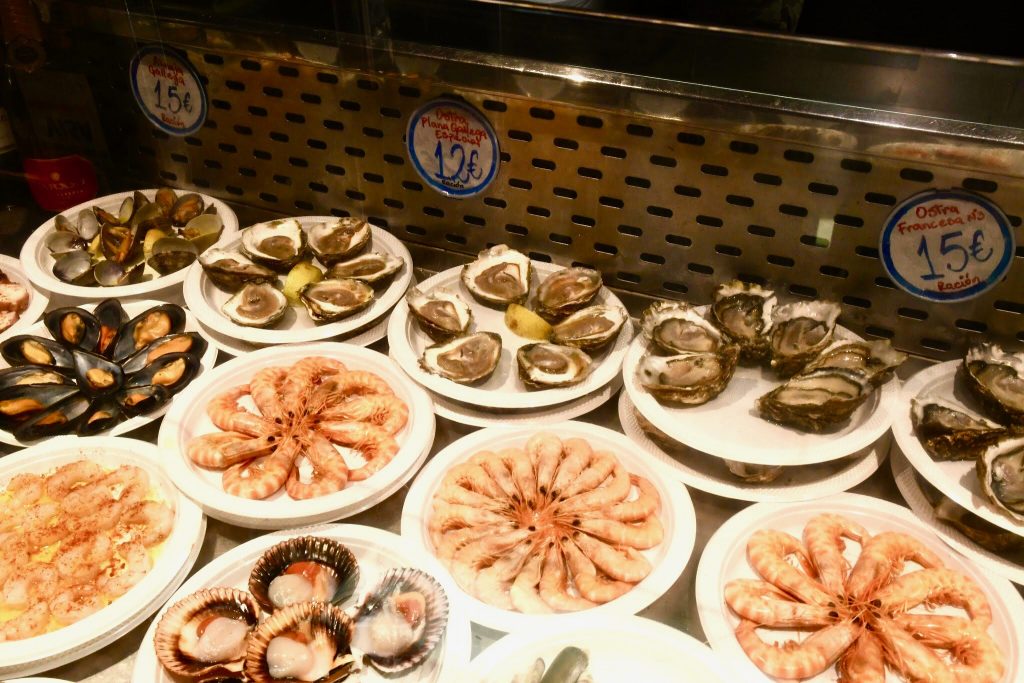 Mariscos Morris: I know the next time that I return to Spain, I'll be visiting Galicia. If for some reason, you can't make it there either at least you can get a little taste of what can be expected of Green Spain's culinary landscape at Mariscos Morris. The plates shown above (which are more like a meal portion, rather than a tapa) are 12-15 Euros each.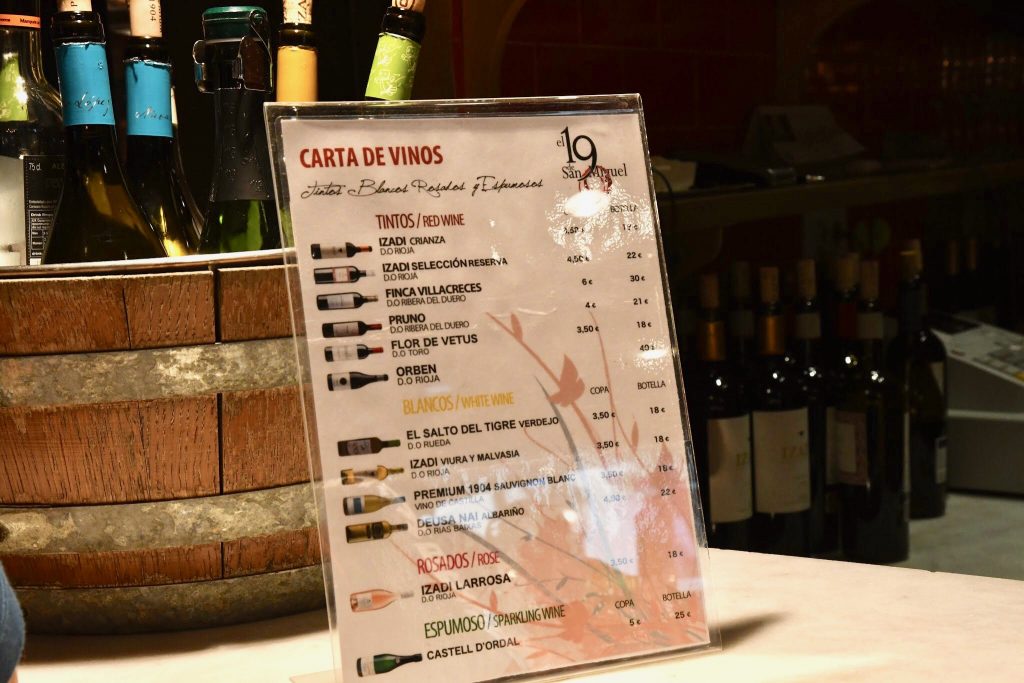 El 19 de San Miguel: Speaking about Galicia, my glass of Vermut is long gone and it's time for wine! Less than elbow room only, it amazed me how the nice folks at El 19 de San Miguel were able to still keep a lively conversation going on, while serving up glasses of wine and Cava. I loved the Albariño from Rias Baixas (Galicia.) It was a bit more than the other whites at 4.50 Euro, but worth the extra (and wine is still much cheaper by the glass than it is in the US.)
Tip: Buy a bottle for no more than 40 Euro (and most offered are much less) and split it with your friends or make new ones! Remember that you can carry the bottle and your glass around with you.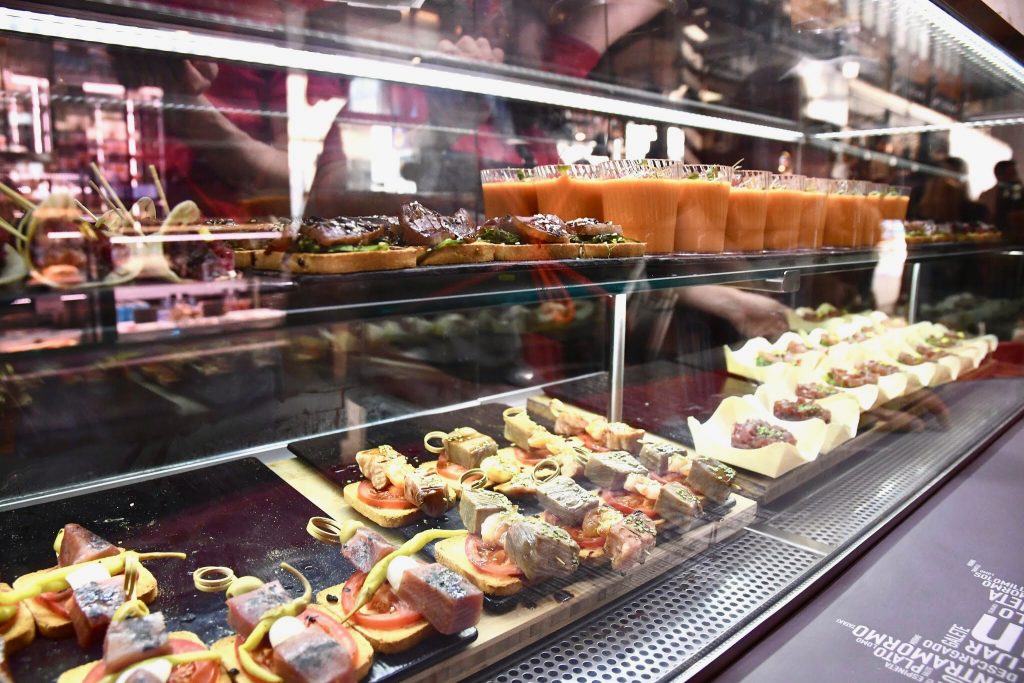 Amaiketako: Yes, there is much more at Mercado de San Miguel than seafood, but that day I was indulging my pescatarian doppelgänger. Amaiketako began three years ago as an online store specializing in artisanal products from the Basque country. Try the Gazpacho with Ahi Tuna bits and garnished with watercress. I've forgotten the prices of each tapa, but I'd say about $3.50 average.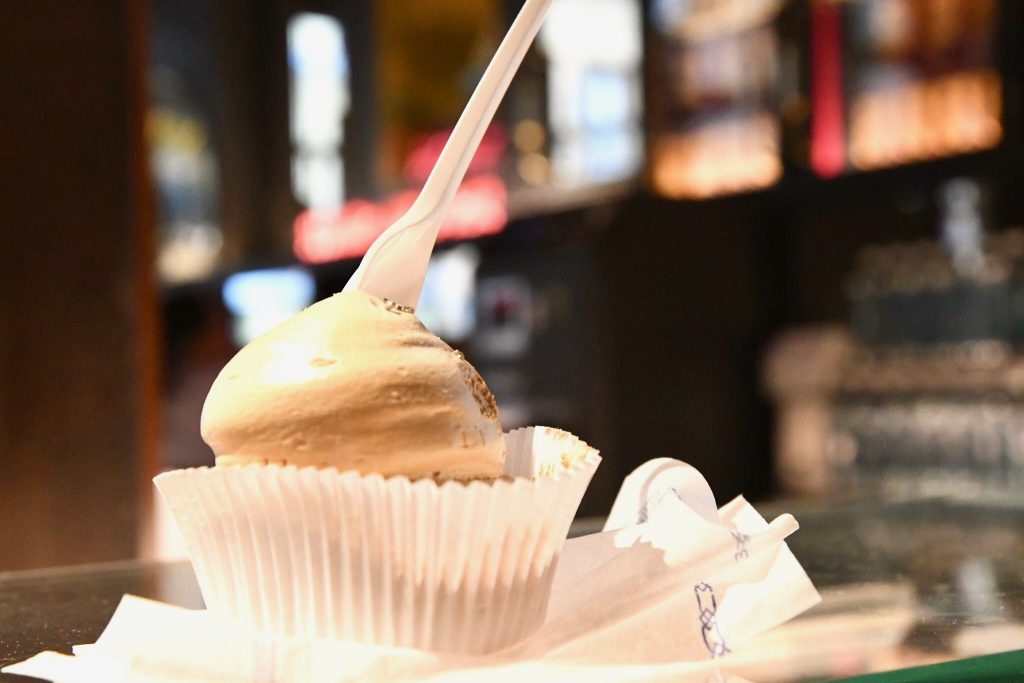 Horno de San Onofre: For just 2.50 Euro you can end (or begin) your San Miguel experience with a rich and creamy meringue. You'll never go back to those crunchy and messy blobs of egg whites again. Or for 1 Euro more, find happiness on a plate with one of their Milhojas.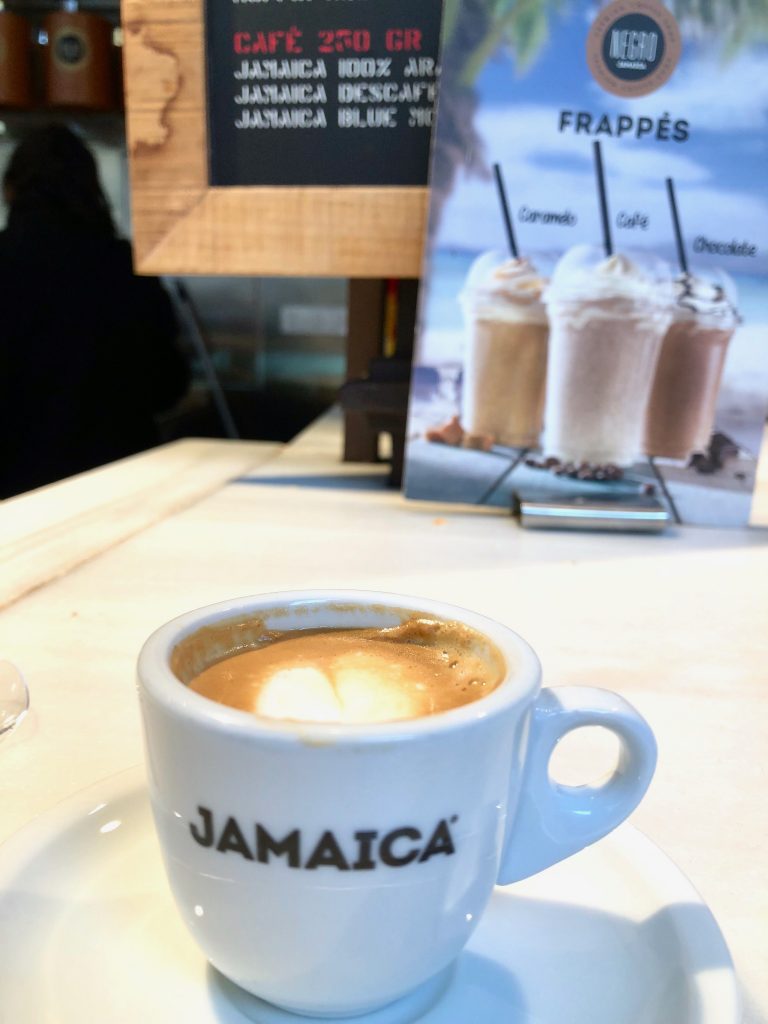 Café Negro: Your last stop should be a coffee to get you through the next part of your uphill and downhill day in Madrid. You'll enjoy and value the choices at Café Negro because it's no secret: it's hard to find a good cup of coffee in Spain.
Tip: Save one of your receipts to get you into the restroom, otherwise you'll have to pay.
"Ask not what you can do for your country. Ask what's for lunch." ― Orson Welles
Until next time, know that it's okay to eat 'for the gram' because you're part of a worldwide community united in one of life's greatest past times. However, find balance and opt more to enjoy the day's unrecorded and flavorful moments with friends, family or even strangers – standing room only.
@AllegoryPR #MyArtEscape
About Mercado de San Miguel: More than 100 years have gone by since the Mercado de San Miguel opened its doors as a wholesale food market. Today, this historical building stands out as one of the world's main gastronomic markets. It allows visitors to experience the essence and most significant flavors of every corner of Spain.
Monday – Thursday and Sunday
10:00 am – Midnight
Plaza de San Miguel, Madrid 28005