Finding Liguria Close to Home
All food bloggers including me, need to take a break from the kitchen for rest and inspiration. This week's blog post explains the reason why I tried to make Focaccia and the history of Vitello Tonnato. There's a perfect pairing and French Wine connection explained at the end too.
Riviera Focacceria Miami: A Focaccia Tradition Born in Liguria
Feeling a little "flight grounded," I've been needing another escape. A lunch get-together in Miami gave me the energy boost that I needed to return to the writer's keyboard! If traveling to South Florida, I highly recommend that you visit Riviera Focacceria. It's located at the Shops of Midtown Miami.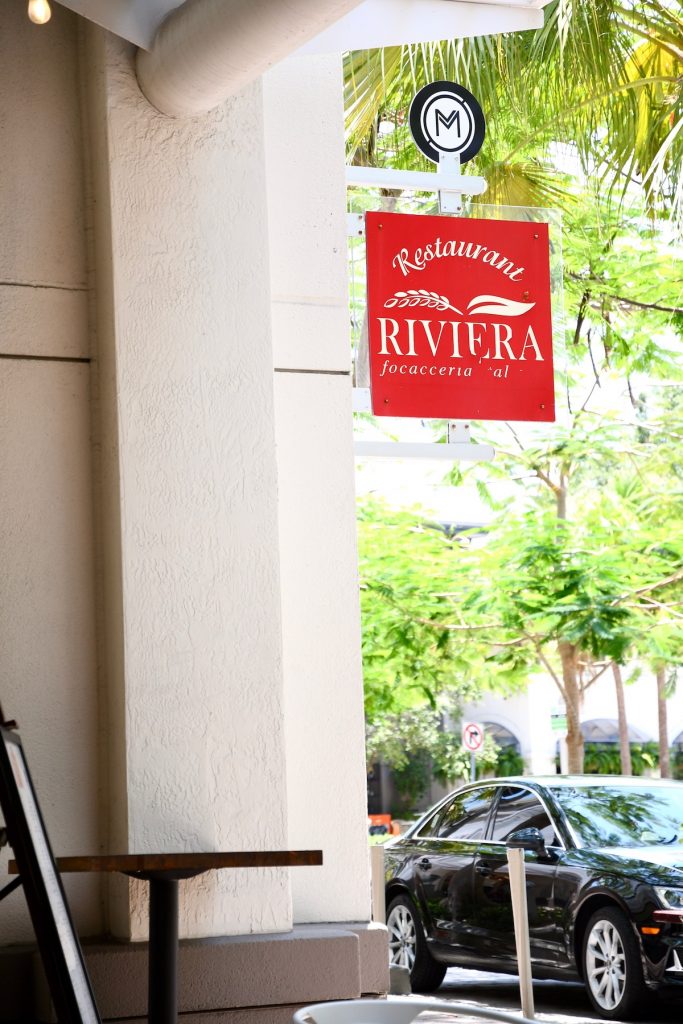 Currently, you can't sit inside because of Coronavirus restrictions. However there's a shady patio with a succulent wall on one side and animated street view on the other. To simulate an ocean breeze, try a wine "infused with the sea" and enjoy one of their seafood dishes. Your imagination and taste buds will quickly transport you to Liguria on the Italian Riviera!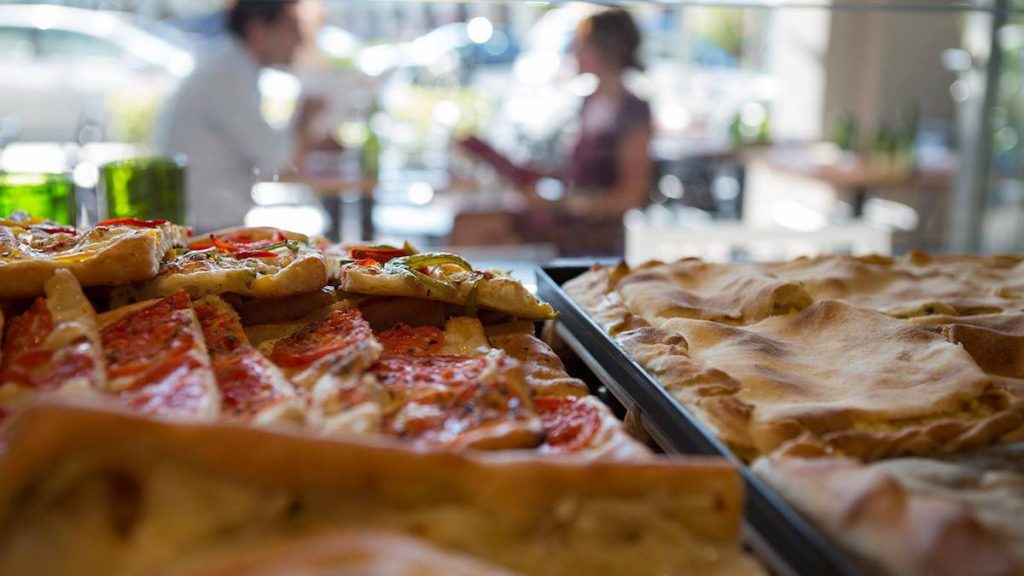 A Focaccia First
I first visited Riviera Focacceria in 2014, (shortly after it opened) to pick up lunch to take to a meeting. The smell of freshly baked focaccia lured me in and the variety of baked yumminess on display were fascinating. Little did I know, that Miami's best Italian sandwich was in that takeout bag! Forget Panini made from Ciabatta bread. When eating a sandwich made with homemade Focaccia, your teeth first sink through a crispy exterior. Then, they'll descend into buttery craters to reach their final destination: delicious fillings like cheese, Prosciutto, Speck or vegetables. It's heavenly!
When the Calf Met the Tuna Fish: Vitello Tonnato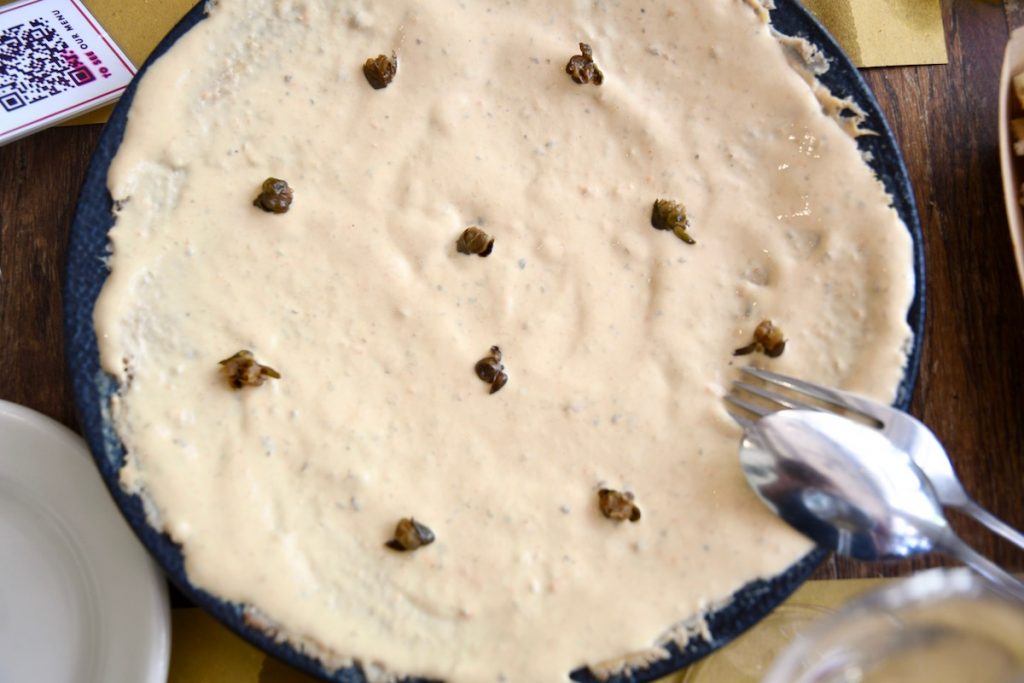 Vitello Tonnato means Veal in a Tuna Sauce. Although this partnership seems odd, think of it as the Piedmontese "Surf and Turf" — thin slices of aromatic veal served cold and topped with a creamy tuna, anchovy and capers mayonnaise. Trust me, it's delicious and the history of Vitello Tonatto is quite fascinating.
DYK Piemonte (land of Barolo and Barbaresco) is only a one and half hour drive from coastal Liguria?
The concept of "fat" relating to meat and "lean" to seafood, as two separate nutritional entities dates back to the Middle Ages. At some point in Italian food history, a cook decided to challenge this idea and the first experiment, to no surprise, was adding anchovies to a sauce. Salt-preserved anchovies were used to boost the flavor of meat sauces and at this moment in history, an umami lover's miracle was born!
Fast forward and some culinary experiments later, a medical researcher came up with three variations of Vitello Tonnato. Not only were they tasty, but he felt that each would benefit the digestive track.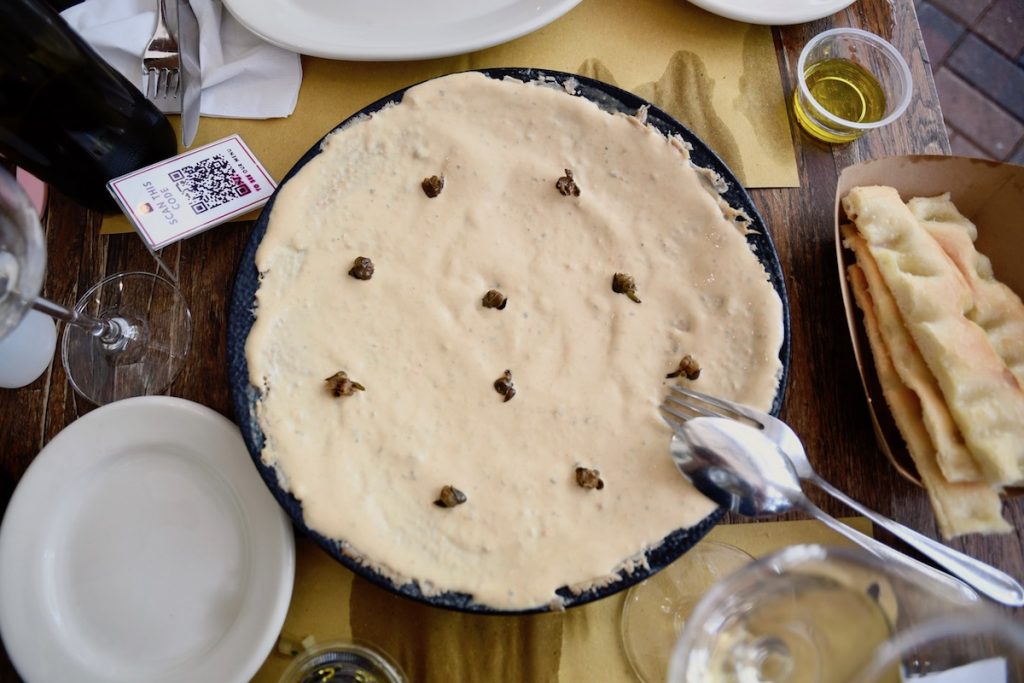 By the 1950's, Vitello Tonnato became the culinary sensation that we know today: thin slices of veal topped with a sauce enriched with a creamy mayonnaise.
You can read the full story here.
A French Wine Connection: Domaine Ménard-Gaborit, 2012 Monnières-Saint-Fiacre 2012 (Muscadet Sèvre et Maine)
🍇: Melon de Bourgogne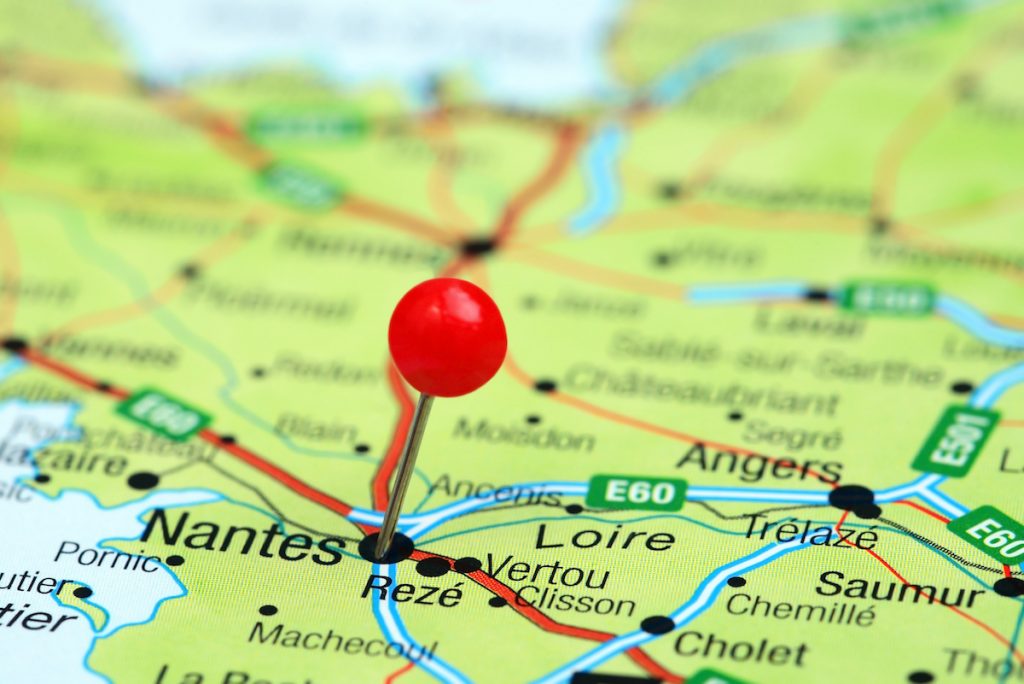 Muscadet was on my wine newbie "to do" list. Melon de Bourgogne is the only grape used in Muscadet. The Pays Nantais region (where this wine dominates) is located in the western Loire Valley on the Loire River — the longest river in France. Additionally, it's also 31 miles (50 km) from the Atlantic Ocean. Muscadet Sevre-et-Maine is the most famous Muscadet appellation.
Melon de Bourgogne's history is quite intriguing. Should you wish to know more, listen to the Wine for Normal People podcast titled, "Muscadet – The Overlooked White of Loire."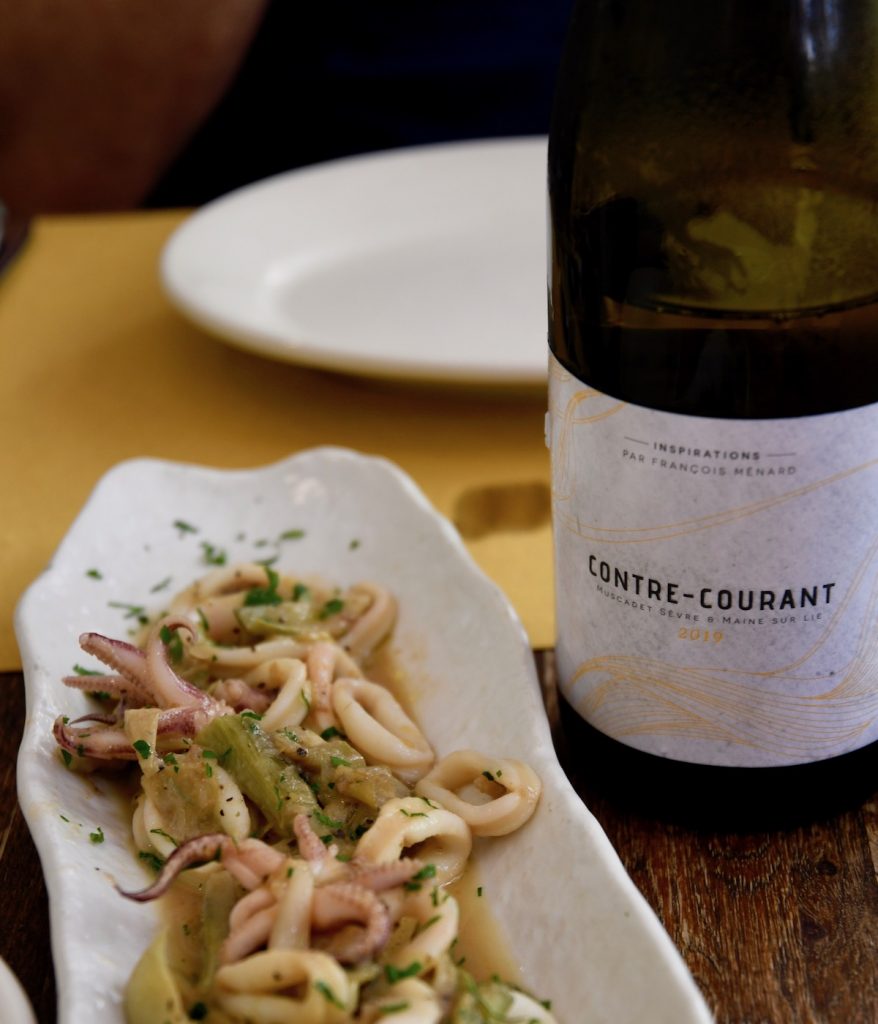 Funnily, luck was on my side that day. My favorite wine guru decided that the Domaine Ménard-Gaborit wine would go well with Vitello Tonnato. We also ate an octopus and artichoke appetizer and seafood pasta.
I greatly enjoyed the new release, Contre Courant ("against the current".) With "notes of seabreeze," it paired perfectly with lunch. Additionally, the one that I took home, the 2012 Monnières-Saint-Fiacre, had me thinking and salivating for days!
Note: This wine is not on Riviera Focacceria's wine list. However, they have a wide selection of quality wines that complement the Ligurian-inspired menu.
You can buy this wine at Wine by the Bay.
Just Go!
Riviera Focacceria's central location makes it a perfect spot for lunch or a relaxing evening with full course dinner. They also offer delivery services should you be staying home during COVID-19 and need a cooking break. Check out their food and wine menus here.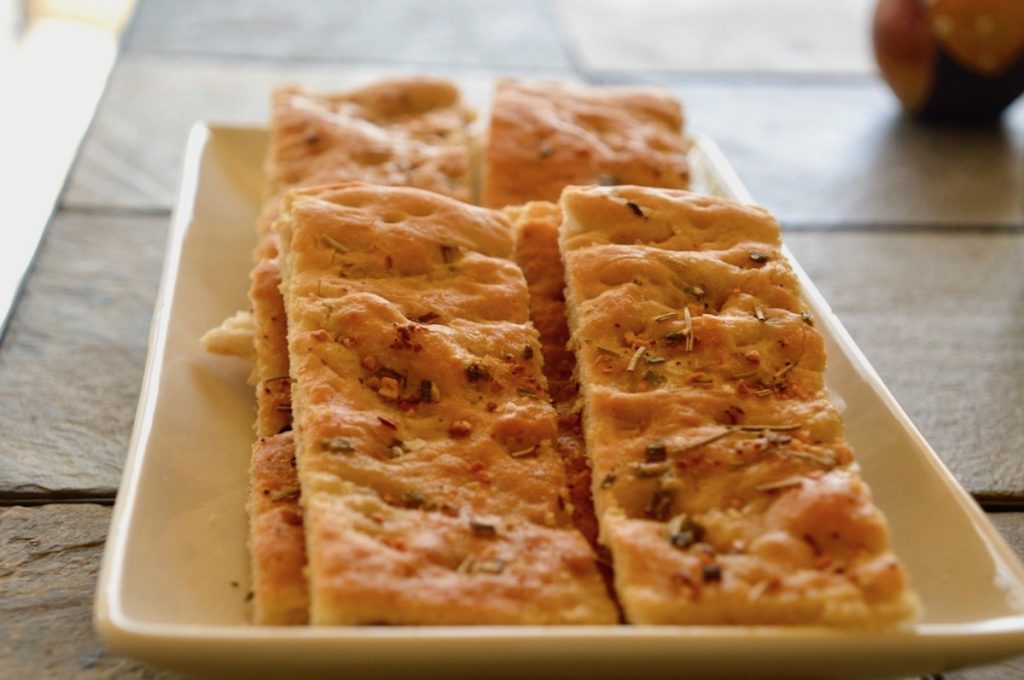 In short, here is why I tried to make Focaccia. I hope to one day get better at making this Ligurian specialty. Somethings like Focaccia though, may be best left to the experts.
At Riviera Focacceria, the spotlight is on Ligurian cuisine. Enjoy regional icons such as: Pansotti, Focaccia di Recco (filled with Stracchino cheese,) and Mandilli de Saea "silk handkerchiefs."
3252 Buena Vista Blvd #110, Miami, FL 33137 | www.rivierafocacceria.com @rivierafocacceriamiami
A Food and Wine Journey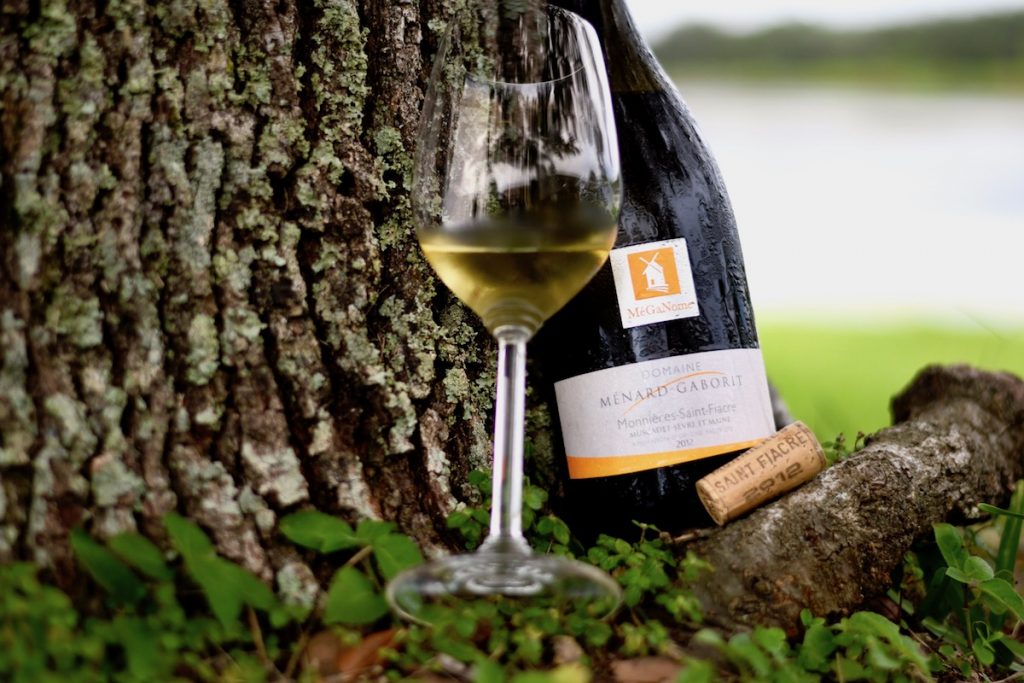 Our plate and glass keep us connected with Italian history and culture. That connection makes us want to visit Italy over and over again. Or, some may even wish to live there one day.
Thanks to the people who keep these gastronomic traditions alive, we can find some new experiences close to home too.
It's the not the destination, It's the journey. ~ Ralph Emerson
@AllegoryPR #MyArtEscape
Note: I thought long and hard about writing about a veal dish. If you'd like to know more about this subject I suggest you read this website. There is a movement for better practices in cultivating the meat and that can be read here.