FOR IMMEDIATE RELEASE
Media Contact: Lisa Morales, press@allegorypr.com; Images by Request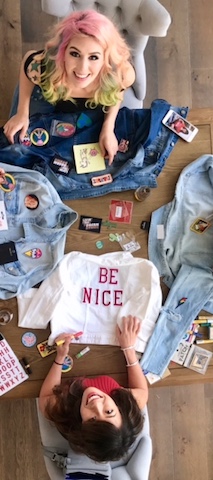 Fort Lauderdale, FL…November 5, 2018…Holiday home design wishes can come true at the the Home Design and Remodeling Show featuring TV personality, Linda Phan of HGTV's Property Brothers at Home: Drew's Honeymoon House. The Fort Lauderdale Home Show takes place November 16-18, 2018 at the Greater Fort Lauderdale Broward County Convention Center. Information and early bird online ticket savings can be found at www.homeshows.net.
From traditional to trendy, there are thousands of choices for the home, backyard and office: furniture; fine art and décor; landscaping items, patio furniture and grills; appliances; doors, cabinets and fixtures; flooring; home automation; wall and window treatments; home automation; hurricane protection, pergolas, awnings and much more. Plus, special savings exclusive to the Show.
Home Show Highlights
Celebrity DIY: TV's Linda Phan will be joined onstage for DIY holiday crafts with her "sister from another brother", Annalee Belle, partner to Phan's brother-in-law, JD Scott (older brother of Property Brothers Drew and Jonathan.) Belle is a model and celebrity makeup artist based in Las Vegas. Members of the audience can participate and share family stories and anecdotes while receiving some "how to" lessons. Take away some holiday inspiration and try out each crafting "recipe" at home with loved ones.
Saturday, November 17th at 2:00 pm (1 hr Workshop) The Wishing Wreath and 4:00 pm (1 hr Q&A): Up your table top game for the holidays. When it comes to dressing your table, have fun with textures and color. Don't be afraid to mix and match! Learn how to make a luxe collection of placemats and napkins. Even though your food will be the center of attention, it's always nice to start with stylish table decor to set the mood! 
Sunday, November 18th at 3:00 pm (1 hr Workshop) The Wishing Wreath: Make this interactive wreath on which your friends and family can write their wishes. This decor piece is super simple, requiring only a few materials and will be a fun addition to your holiday traditions!
Homestyle 411: Home Show Featured Interior Designer, Viviana Galetto, will be teaming up with Special Spaces Boca Raton to design her Home Show room vignette, "Ely's Special Space." This bedroom will be inspired by a teenage boy diagnosed with malignant bone cancer, the next recipient of a Special Spaces Boca Raton bedroom. The other featured Interior Designers who will create unique room vignettes and be available all weekend to answer questions are: Martha Antonini, Francy Arria, and Perla Lichi.
Lifestyle and Industry Professionals Seminars:
Property Tax Savings Exemptions with Marty Kiar, Broward County Property Appraiser. | Saturday, November 17th at 1:00 p.m. 
Realtors® Know Best – Home Design Techniques: Join RAPB+GFLR 2019 President, Jeffrey Levine and Luxury Sales Realtor® Liz Caldwell as they will share with you the Facts and Trends on Real Estate in Broward and Palm Beach Counties.  Liz Caldwell, host of ABC Local 10's News Saturday real estate show, will share the benefits in working with a Realtor® who is familiar in utilizing home design techniques when listing your property to achieve the highest and best sales price, as well as, what one can look for when buying to help turn a house into your home. | Saturday, November 17th at 3:00 p.m. 
Changing Children's Lives One Bedroom at a Time presented by Peggy Peterson, Director and Adrian McKinlay, Fundraising/Donor Acquisition of Special Spaces Boca Raton. | Sunday, November 18th at 1:00 p.m. 
Your Money and Your Mortgage: Insights and Solutions presented by: Carolina F. Benzadon, CPFA, Financial Advisor, Senior Portfolio Advisor, NMLS #1435379 Merrill Lynch. | Sunday, November 18th at 4:00 p.m.
Gardening Seminars presented by: Dr. John Pipoly, STEAM/Environmental Educational Coordinator, Public Information Group, Broward County Parks and Recreation. | Each day at 5:00 p.m. (Nov 16-18)
Family Day is Sunday, November 18th: Enjoy the Kids Creative Critter Corner presented by Broward County Parks and Recreation.
All seminars are included with the price of admission and take place at the Home Improvement Stage.
For information and tickets, visit www.homeshows.net.