Everyone loves to find inspiration from our favorite celebrities, so be sure to have the camera ready, plus pen and paper in hand when visiting the Miami Home Design and Remodeling Show. "Trading Spaces" star John Gidding will headline the Miami Home Show along with plenty of other South Florida personalities who will share or receive some Interior Design inspiration on Labor Day Weekend, from Friday, August 31st to Monday, September 3rd (Labor Day.)  NEW LOCATION:  Mana Wynwood Convention Center, 318 NW 23rd St, Miami, 33127.
Find over 150,000 square feet of exhibition space filled with thousands of choices for the home, backyard, or office remodeling project: furniture; fine art and décor; landscaping items, patio furniture and grills; appliances; doors, cabinets and fixtures; flooring; home automation; wall and window treatments; home automation; hurricane protection, pergolas, awnings and much more. Plus, find special offers and savings exclusive to the Show.
What to Expect at the Miami-Wynwood Home Show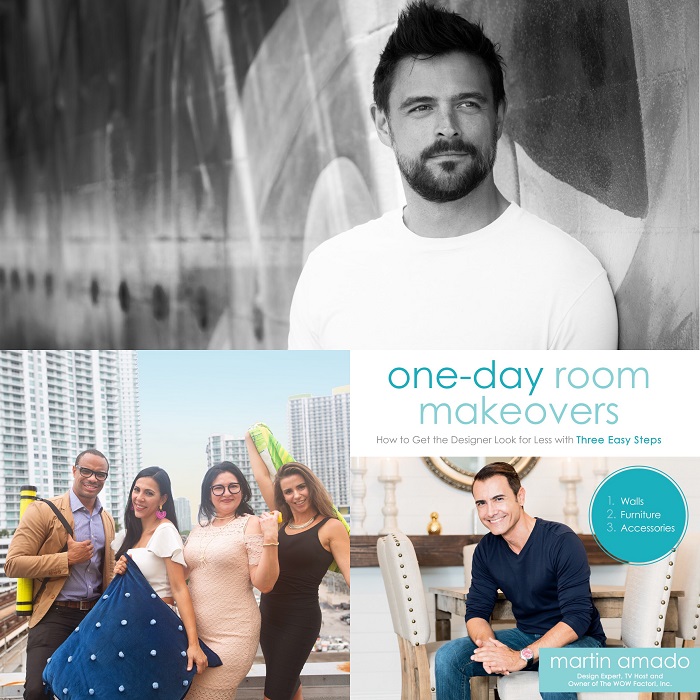 John Gidding of TLC's "Trading Spaces" and HGTV's "Curb Appeal" presents,Living in Art: Decorating Through Self-Expression. Gidding will share some takeaways for how to feel about your own "art collection"; identify ways of making walls have a purpose in each room; introduce different usages of art in interiors through furniture, installations, paintings, graffiti, etc.; and discuss the role of art in "Trading Spaces" and why it's always put off as "homework. He'll also paint an original work of art during the first day (before and between presentations) which will be raffled off to an audience member at his final presentation.
2:00 and 4:00 p.m. on Sunday, September 2nd and Monday (Labor Day), September 3rd;
One-Day Room Makeovers: How to Get the Designer Look for Less with Martin Amado of So Flo HOME PROJECT, WPLG Channel 10. The secrets to styling the home of your dreams are as easy as 1–2–3! Design expert and "makeover maestro" Martin Amado reveals the 3-step method he uses to create dramatic room makeovers for his clients in only one day. From walls to furniture to accessories, learn how to decorate rooms of any style in layers like a professional designer. Amado will be signing his books following his seminar.
1:30 p.m., Saturday, September 1st ; 
Designer Rooms for the Stars!: Four Interior Designers will each create a room vignette for a television news journalist "client" and reveal the final design to him/her at the Home Show. This year's "Designer Rooms for the Stars" designers and celebrity matches are: Julia Alzate of Julia Alzate Design and Tips will create a room vignette for WSVN7 News Anchor, Craig Stevens; Roberta Black of RB Design — Co-Anchor CBS4 News This Morning, Lauren Pastrana; Reginald Dunlap of Reginald Dunlap Interior Design — NBC6 in the Mix, Hosts Johanna Gomez and Jen Herrera; and Viviana Galetto of Viviana Galetto Designs — Univison23 El News Cafe Host, Robmariel Olea;  
Designing South Florida: Wynwood + Interior Design: Panel Seminar for industry professionals moderated by Angela Caraway-Carlton, Journalist and Indulge contributor, presented in collaboration with Wynwood Business Improvement District (BID.) Discuss Wynwood's evolution as a neighborhood and the District's embrace of design-focused businesses and design in general. Panelists are: Adam Kayce, Vice President, Home Show Management Corp.; David Charette, Principal, Britto Charette Interior Design; Dylan Finger, Mana Miami Managing Director; and Manny Gonzalez, Wynwood BID Executive Director.
3:00 p.m., Saturday, September 1st ;  
Family Day: Wynwood Walls Art Activity presented by Viernes Culturales with popular Calle 8-based artists, Franks Christopher and Sabrina Alfonso. Children can color their own "Wynwood Walll" inspired by the buildings, businesses and murals in the Wynwood Art District.
1:00 – 5:00 p.m., Sunday, September 2nd ;  
Other seminars include: Learn how to maximize homeowners insurance and storm proof your home presented byWalter Jenkins, Vice President of DTRT Insurance Group with Rafael Perez, Managing Director at Ygrene; The Importance of Green Spaces in our City with Andrew Gonzalez of Hialeah Gardens Botanical Garden; and Easy Décor Tips for your Special Occasion Table with Julia Alzate, TV personality and lifestyle expert who appears on Univision's Despierta America and Amor 107.5's Tardes Calientes.
All seminars take place at the Ygrene Home Improvement Stage. Visit www.homeshows.net for the full schedule.