Featured Interior Designers Reveal Mood Boards and Room Concepts
Fort Lauderdale, Fl…November 11, 2019…It's a great time to think about design and get the house ready for the holidays at the Fort Lauderdale Home Design and Remodeling Show! Find over 150,000 square feet of exhibition space filled with home remodeling and décor products and services, daily seminars and feature areas.
The designer rooms showcase is a long-standing Home Show tradition. This popular feature area is designed to give homeowners ideas and inspiration, so that they can transform a part or all of their home into a comfortable space that expresses their personal style. Learn how working with a professional can help put all of the ideas together in a timely and cost-efficient way.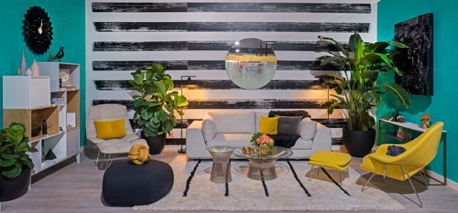 Last week, the featured Interior Designers submitted their mood boards and room concepts and will each transform a 12×20 drywall space into a room which expresses their artistic style.
All are invited to see the final results and meet and discuss design and décor at this feature area from November 22-24, 2019 at the Greater Fort Lauderdale Broward County Convention Center.
The selected designers are: Viviana Galetto (Viviana Galetto Designs); Perla Lichi (Perla Lichi Design); Renan Rodriguez (RoZu Design Solutions); and Michael Zavala (Zavala Concepts):
"Designers are creative people – artists," explains Perla Lichi (ASID.) "When given a blank canvas with no restrictions, such as the Home Show vignette, we can show off our style and actually push the edge beyond what a client might want. Most actual client work requires a more conservative approach. The Home Show booth allows me to show off my love of color and how we use different elements to know what colors will work and what colors won't work. We hope it also shows clients who also love color, like me, not to be afraid of going bold!"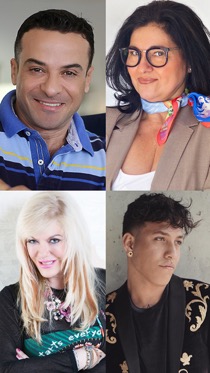 Lichi's Retro Kalaidescope living room will have a holiday theme. Her repertoire includes projects in her home base in South Florida and throughout the USA, Canada, the Caribbean Islands, Central and South America, as well as in Europe, the Middle East, Africa and Russia. Her firm's motto is "We set the stage. You live the dream" and works with a client's taste, budget and individual needs.
Renan Rodriguez will create a bachelor's den using colors olive green, white, black and brown with wood accents and natural stone accents. Rodriguez has over 20 years of hands-on experience with furniture, fabrics, natural elements, colors and culture. He is fluent in the process of working with owners and contractors from the floor plan, creation process, management and installations to the finishing.
Viviana Galetto will reveal a sophisticated living room working with dark greens and gold accents. She has spent over twenty years transforming spaces into balanced compositions of color, light and style. She provides a wide variety of services that include interior design, color consultation, professional organization, DIY classes, event decoration, space planning, event and home staging.
Michael Zavala will create a dining room that draws from nature: dark wood, forest green, and charcoal with contemporary furniture and fixtures. Out of his desire to provide his clients with a one-on-one direct design experience, Zavala works closely with his clients to discover an individualized creative design solution that meets both their functional needs and their desire for an inspiring and comfortable atmosphere in their living-space or work-space.
Ready to Renovate, DIY or Organize?
Enjoy weekend seminars with special guests including:
Learn the "5 Rules of Renovation" with Carter Oosterhouse of Trading Spaces and The Great Christmas Light Fight at 2:00 and 4:00 p.m. on Saturday, November 23rd and 2:00 p.m. on Sunday, November 24th. Oosterhouse's expertise in green-building solutions and eco-friendly designs makes him one of the most relevant and sought after lifestyle experts today.
Galey Gravenstein, a DIY Designer and Instagram Influencer who has acquired a following of over 500,000 DIY fans in less than three months, will discuss how she built her design empire.
Beth Levin, aka Closet Queen® who has been featured on HGTV's Mission: Organization! will present, "Closet Envy: How to Organize Like the Pros."
For a complete schedule, visit www.homeshows.net and follow on social media for updates @FLHomeShows #FLHomeShows. Purchase tickets online by Thursday, November 21st and SAVE $3.00. Admission: $10.00 adults; $1.00 children 11 and under, available online and at the Box Office.
Fort Lauderdale Home Design and Remodeling Show
The Greater Fort Lauderdale Broward County Convention Center
1950 Eisenhower Blvd, Fort Lauderdale, FL 33316
305.667.9299
@FLHomeShows Instagram & Twitter
FloridaHomeShow on Facebook
Nov. 22-24, 2019
Friday 4:00 – 9:30 p.m.
Saturday 12:00 – 9:30 p.m.
Sunday 12:00 – 7:30 p.m.