Feeding Five Under 25$
There's nothing pleasant about living in South Florida these days. This year, the stifling heat and humidity are minor burdens compared to the reality of living in Florida, the COVID-19 epicenter. We're just sitting and watching our impending, pandemic doom. Read it to believe it here. So, when life gives you lemons, make an easy no-bake lemon cheesecake.
Here's the recipe below and some history about this famous saying at the end 👇🏼 – just keep scrolling if you're not making this dessert. However, I suggest that you do because it's a great finish to a BBQ dinner.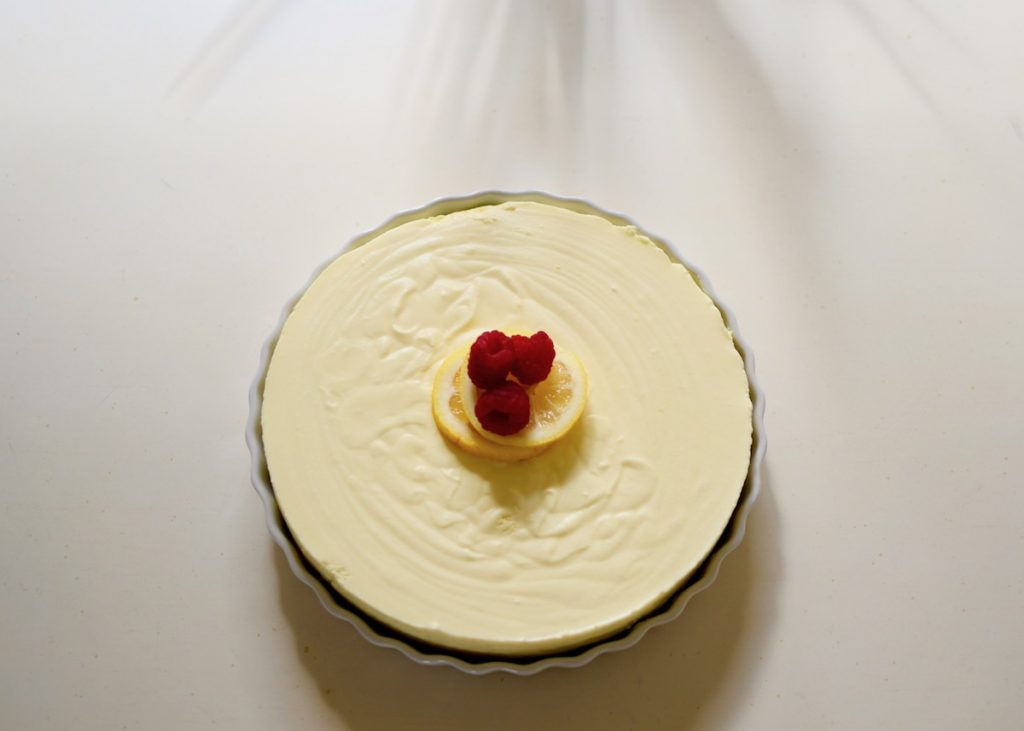 No-Bake Lemon Cheesecake (Original recipe from Spend with Pennies)
1 ½ cups graham cracker crumbs
3 tablespoons sugar
7 tablespoons butter melted
1 package lemon Jell-O 3 ounces
16 ounces cream cheese softened
1 cup powdered sugar
1 teaspoon vanilla extract
2 tablespoons sour cream
1 ½ cups heavy cream*
1 tablespoon lemon zest freshly grated
Combine graham cracker crumbs and sugars in a medium-sized bowl. Add melted butter and use a fork to combine ingredients well.
Pour mixture into a 9″ or 10″ springform pan. Use the (clean!) bottom of a measuring cup to firmly pack crumbs into the bottom of the pan and gently press up the sides. Use your fingers to pack crumbs tightly into the sides of the pan.
Place in refrigerator or freezer while you prepare cheesecake filling.
Pour Lemon Jello gelatin mix into 1 cup very hot water and stir well. Set aside to cool.
Meanwhile, stir cream cheese and powdered sugar together until smooth and well-combined.
Add sour cream and stir well.
Mix in vanilla extract.
Only once Jello mixture is no longer hot to the touch, gradually pour into cream cheese mixture. Stir slowly at first (to avoid splashing) and then increase speed until mixture is completely combined (pause to scrape down sides of the bowl periodically). Stir very well.
In a separate bowl, pour your heavy cream and use an electric mixer with whisk attachment to beat to stiff peaks.
Fold whipped cream into cheesecake mixture until well-combined.
Fold in lemon zest, if using.
Pour over graham cracker crust and transfer to refrigerator for at least 6 hours or overnight to chill.
If desired, top with whipped cream before cutting and serving.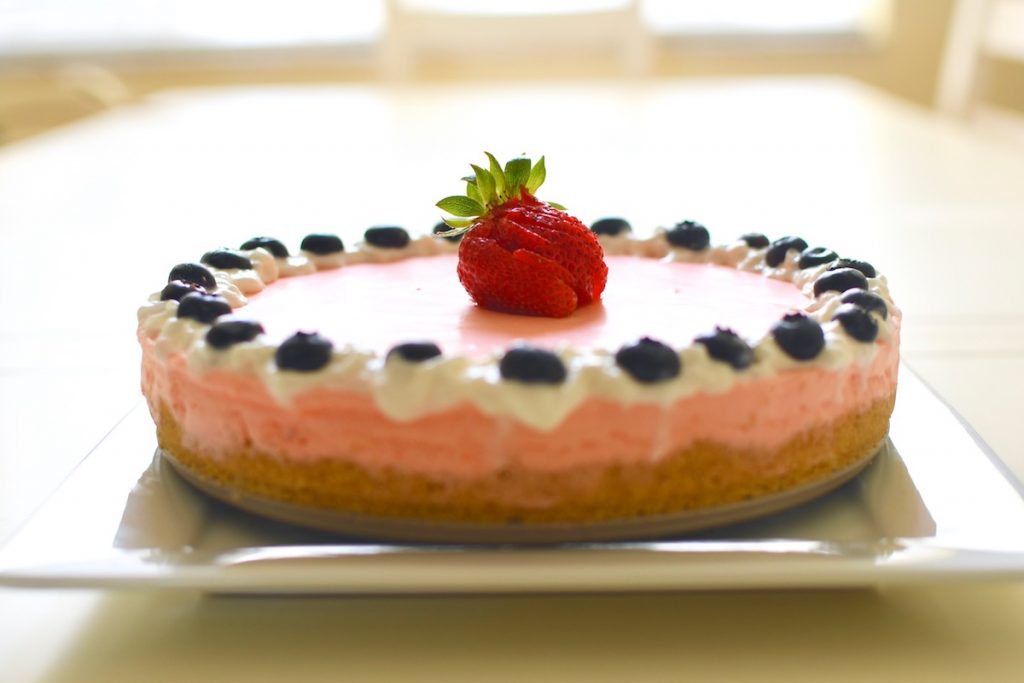 Notes:
I made two versions. For the second one, I used strawberry Jello because I needed a July 4th dessert. It came out pink, so I added a strawberry to the center and outlined the no-bake cheesecake with blueberries and whipped cream. Hooray for the red, but really pink, white and blue! 😊
The lemon version is a much tastier and more sophisticated dessert, because it doesn't taste at all like Jello. Next year, I'll just add some red food color to the original, no-bake lemon cheesecake recipe.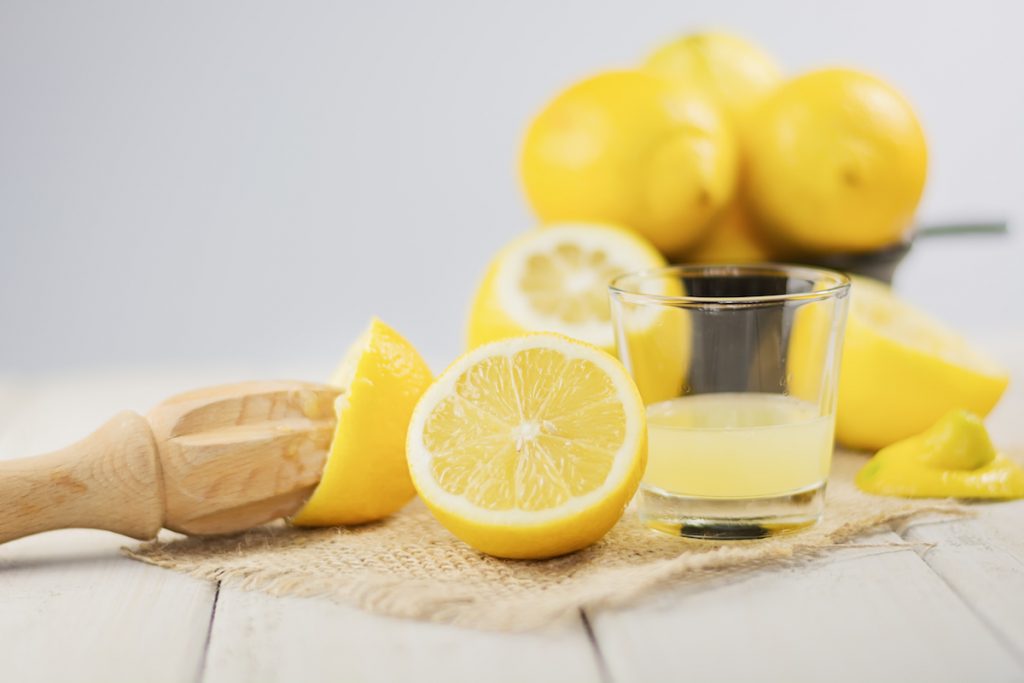 When Life Gives You Lemons
"When life gives you lemons, make lemonade," is a memorable proverbial phrase that many of us like to pull out of our pocket and slap on like a Band-Aid, when something goes wrong. The phrase originates from a obituary titled, "The King of Jesters" penned by Elbert Hubbard who was inspired by the life of a disabled, but highly successful, dwarf actor.
In stressful times such as now, we turn to these words of wisdom and hopefully, find positive ways to escape. For me, it would be a visit to a museum, walk on the beach, or lunch with a friend. However, these simple solutions are now like unattainable luxuries as Floridians struggle to stay healthy and economically stable.
I'll continue to temporarily forget by escaping to my kitchen and "make lemonade (or lemon cheesecake) from lemons." However, it's getting harder…
If you saw a heat wave, would you wave back? ~ Steven Wright
@AllegoryPR #MyArtEscape
You can find other dessert recipes that I've made at the following links:
P.S. I am very thankful for all you who have shared this recipe. I was asked to post it in Spanish and Italian, so there are links at the top of the recipe. I am not fluent in Spanish or in Italian, so I used Google Translator. So, excuse any typos! 😊