Homemade Hamburger Buns and Bernaise Sauce Recipes
Two Favorite Beef Dish Recipes, Syrah Wine Pairing and a Rant About Choices
It's now Week 1 of the, "we don't have to stay-at-home anymore" order and my Week 11 at home. If it wasn't for continuous rainy days, I think there'd be a lot more people outside enjoying all that South Florida has to offer. Before I get to the homemade hamburger buns and Béarnaise Sauce recipes, plus the Northern Rhône Syrah wine pairing, I thought I'd talk about making choices that we can or will make during the COVID_19 pandemic.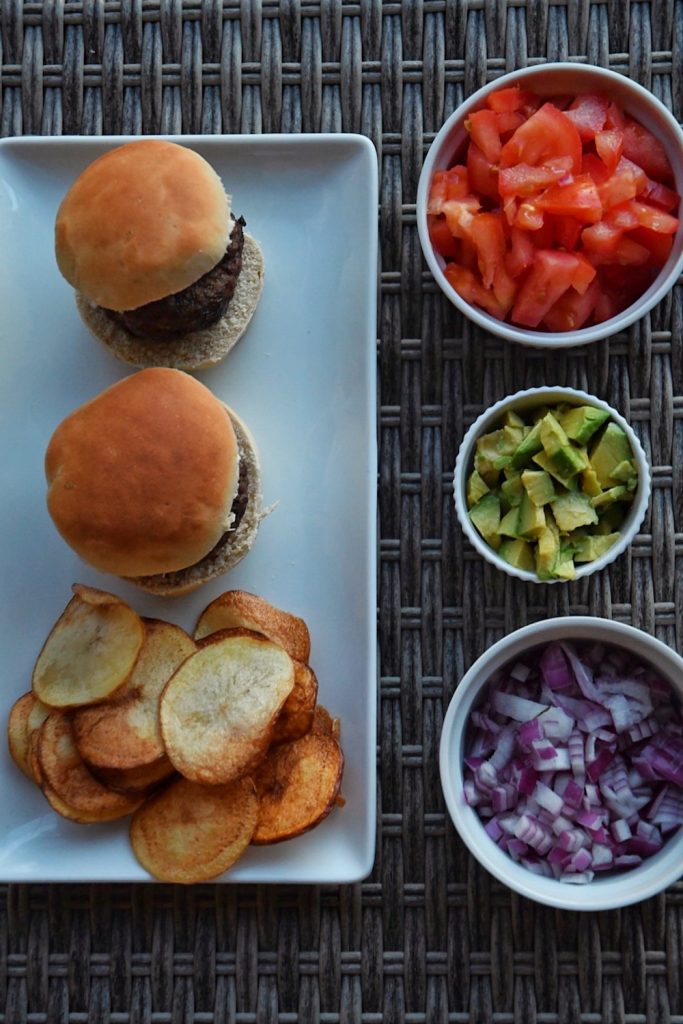 Where's the Beef?
DYK the history of this slogan? It was part of a 1984 advertising campaign for Wendy's. Ironically, this fast food chain recently announced that it was short of or had run out of beef at some of its restaurants. If you're a marketing geek like me, you'll find this story interesting and see how this catchy campaign set Wendy's apart from its competitors.
Seems like everyone has something to say lately and our voices are amplified through social media because the reality is, no one can really hear you through a mask and we can't get together like we used to. People reluctant to head to the beach or restaurants are called cowards (or much worse) by some, and the ones out frolicking around like immortals are named pillars of mass death by others. Yes, that is the extreme POV, but I'm not making it up – just check out the conversations on Facebook.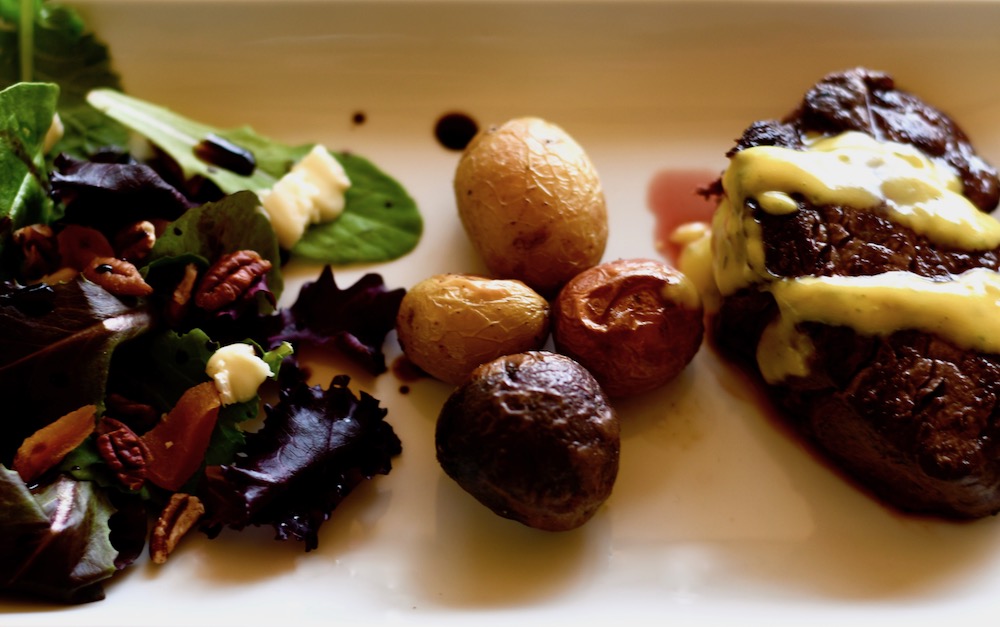 ---
Beef Choices
True to my Canadian nature, I'm more on the reserved side: quietly working and entertaining myself at home thinking that my stay-at-home actions are for the greater good. My biggest indulgences these days are a good meal and bottle of wine.
I love filet mignon, but at $13-$20 per pound, it's a splurge meal. Rather than thinking that the cost of eating a prime cut is at least double the expense of at least one family meal, I put that rationale aside. I'm lucky to have this liberty, but If you prefer to stick to 'Feeding Five Under 25 $,' choose recipe one because there's nothing better than a juicy hamburger to satisfy our craving for beef.
If you're not interested in the recipes, be sure to scroll down and read about the 'Que Syrah Syrah' wine pairing and my conclusion about making choices.
---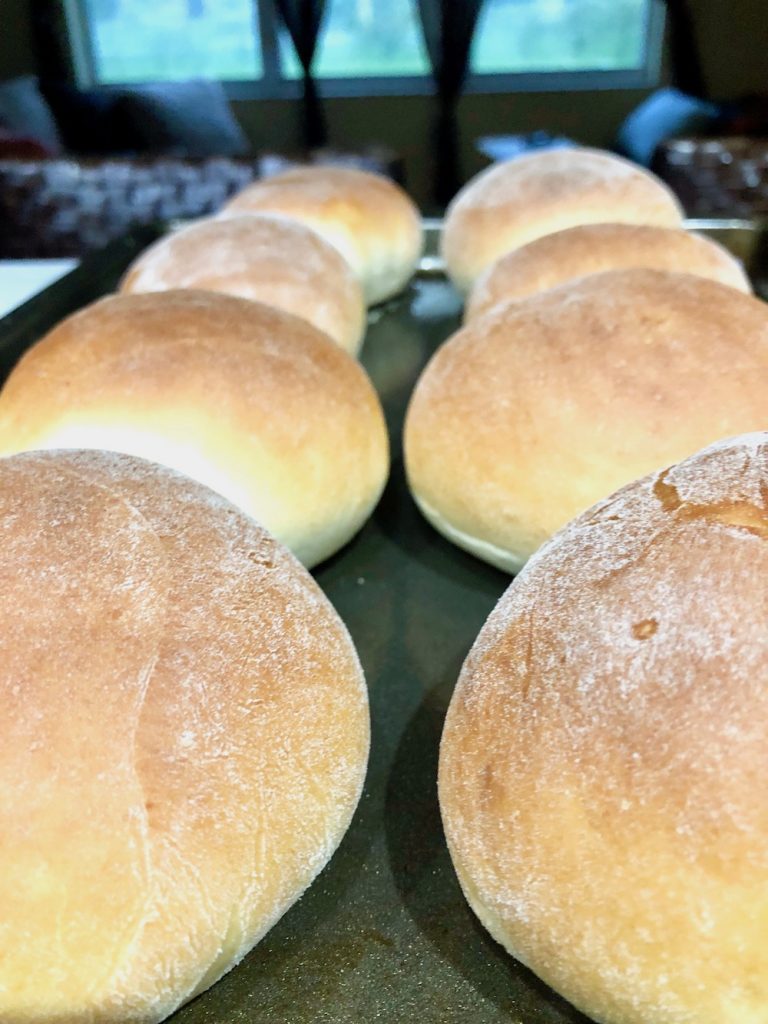 The recipe as stated worked best for sliders. If you want full size hamburger buns, double up the ingredients. Either make your own hamburger patties or buy prepared ones. I served the hamburgers with homemade guacamole and potato chips that I sliced whole potatoes with a mandolin.
2 tablespoons active dry yeast
1 cup plus 2 tablespoons warm water (110° to 115°)
1/3 cup vegetable oil
1/4 cup sugar
1 large egg
1 teaspoon salt
3 to 3-1/2 cups all-purpose flour
In a large bowl, dissolve yeast in warm water. Add oil and sugar; let stand for 5 minutes. Add the egg, salt and enough flour to form a soft dough.
Turn onto a floured surface; knead until smooth and elastic, about 3-5 minutes. Do not let rise. Divide into 12 pieces; shape each into a ball. Place 3 in. apart on greased baking sheets. Preheat oven to 425°.
Cover and let rest for 10 minutes. Bake until golden brown, 8-12 minutes. Remove from pans to wire racks to cool.
Filet Mignon with a Béarnaise Sauce and Smashed Potatoes (Both Recipes found on Food Wishes.)
Notes: While hamburgers don't take long, both the Smash Potatoes and Béarnaise Sauce take quite a bit of time, so make this on a day with lots of free time. It's a great opportunity to listen to a podcast since you shouldn't take your eyes off of the Bernaise Sauce!
---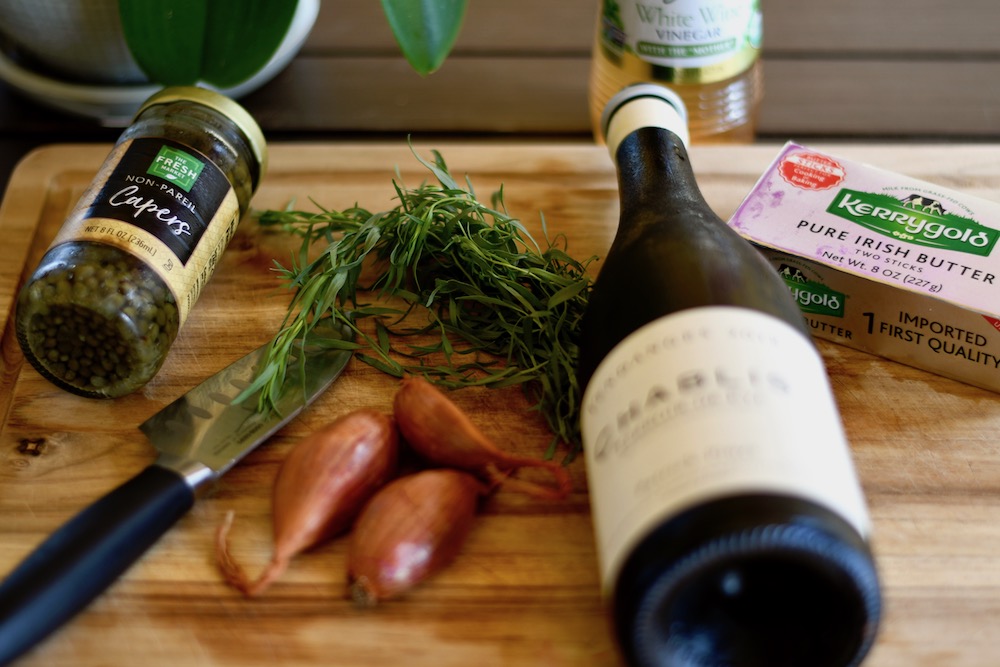 Béarnaise Sauce
Compound Butter
1/4 cup chopped tarragon
1 teaspoon drained capers
1 tablespoon cold butter
Use a mortar and pestle to combine the ingredients. Wrap the compound butter in plastic wrap and refrigeration while you make the Tarragon Reduction.
Tarragon Reduction
1 cup fresh tarragon leaves, roughly chopped
1/2 cup thinly sliced shallots
1 rounded teaspoon whole black peppercorns
1/2 cup white wine vinegar
1/2 cup white wine
1/3 cup water
Simmer the tarragon leaves and peppercorns (or ground pepper) in the liquids until you have about 3 tablespoons of reserved liquid. Gently squeeze all of the liquid through a strainer so you have a clear broth.
2 large egg yolks
3 tablespoons tarragon vinegar reduction
8 tablespoons cold unsalted butter, cubed
1 tablespoon caper tarragon compound butter
salt and cayenne pepper to taste
freshly ground black pepper, optional
Add 2 egg yolks and tarragon reduction to a stainless steel bowl or pot and whisk until combined. Add all of the cold butter cubes and whisk together on medium heat. Keep whisking until the color lightens and it thickens. Add the compound butter cut into cubes and keep whisking until combined. Remove from heat and add salt if desired.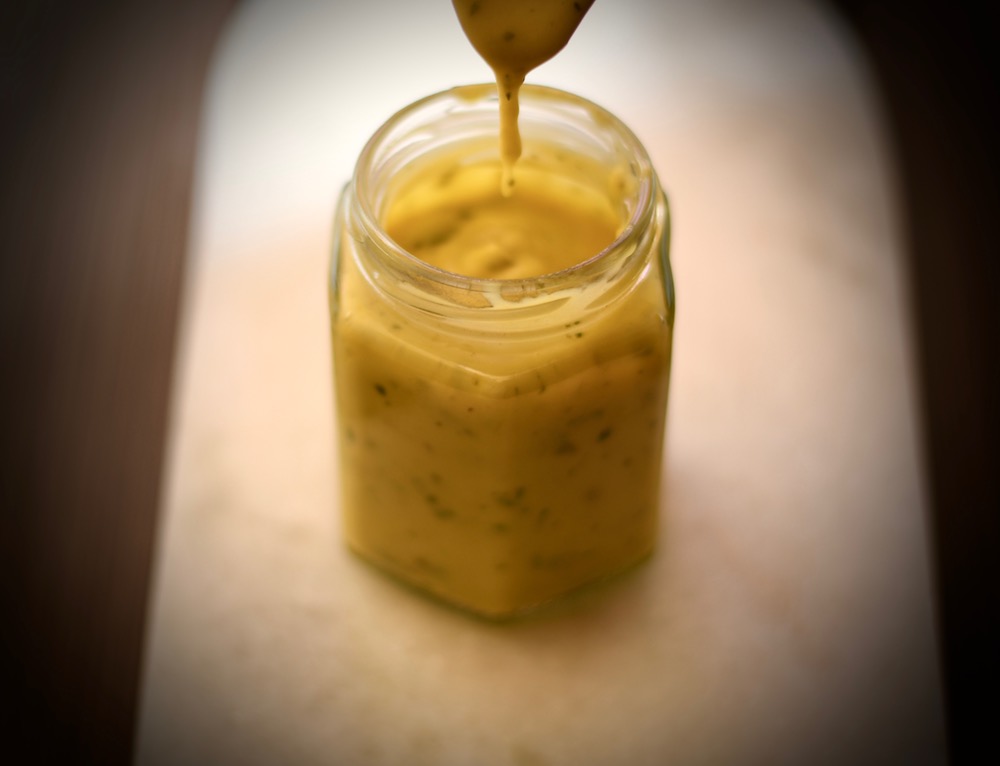 Note: I seared the filet mignon (coated lightly with olive oil, salt and pepper) with a tbsp of butter and one of olive oil and then finished the meat in the oven set to 425 ° until medium. You can grill them too.
You can watch Chef John's video for help. I made the Compound Butter before the Tarragon Reduction. I suggest using room temperature eggs.
---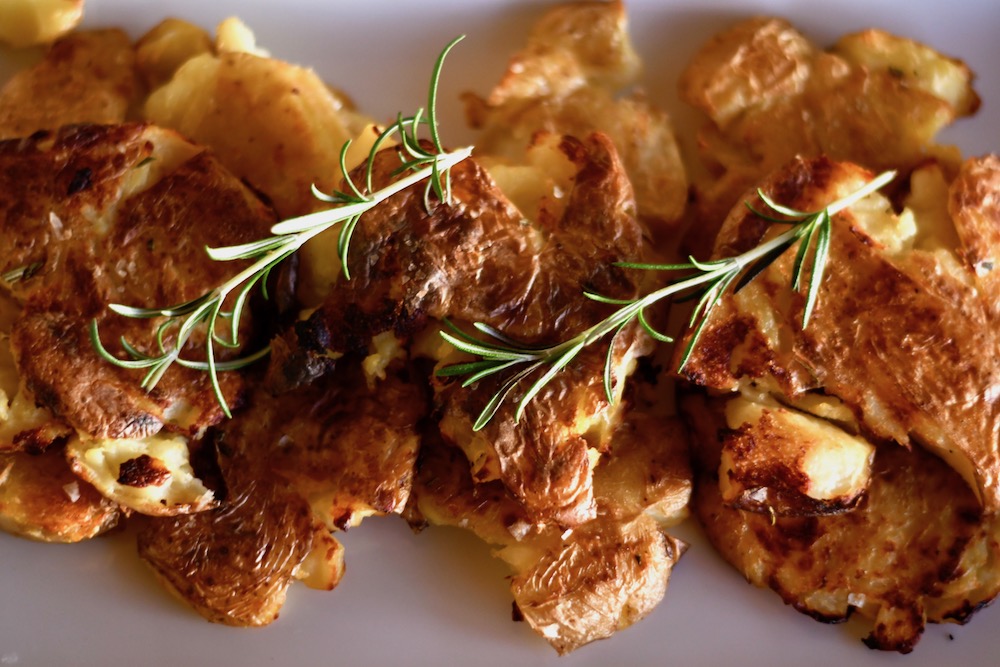 3 ½ pounds medium yellow potatoes, washed
⅓ cup kosher salt
salt and freshly ground black pepper to taste
For the Infused Butter
½ cup unsalted butter
4 cloves garlic, thickly sliced
4 sprigs fresh rosemary, or to taste
4 sprigs fresh thyme, or to taste
Place potatoes into a 5-quart stockpot and cover with 3 quarts of cold water. Add kosher salt and bring to a simmer over high heat. Reduce heat to medium-low and simmer gently until potatoes are just tender, 15 to 20 minutes. Remove from heat and drain well. Let potatoes cool just until they're safe to handle.
Transfer potatoes onto a sheet pan and continue cooling to room temperature. Make 4 or 5 shallow cuts down the sides of each potato, about every inch or so, to ensure the skin splits evenly when smashed. Refrigerate until completely chilled and ready to smash; 8 hours to overnight is best.
Combine butter, sliced garlic, rosemary, and thyme in a small pan over medium heat. Cook, stirring occasionally, until butter melts and begins to bubble, and garlic softens and starts to turn translucent, 3 to 5 minutes. Remove from heat.
Preheat the oven to 450 degrees F (232 degrees C). Line 2 metal baking sheets with silicone baking mats (such as Silpat®) and generously brush on some of the infused melted butter.
Remove potatoes from the fridge and gently smash each between two pieces of plastic using a flat, heavy object until 1/2- to 3/4-inch thick. Season generously with salt and pepper on both sides, being careful not to break potatoes up into small pieces. Transfer onto a sheet pan, being careful not to overlap potatoes. Very generously drizzle and brush most of the melted butter on top.
Bake potatoes in the preheated oven until well browned and crunchy around the edges, 35 to 45 minutes.
Meanwhile, place the pan with the remaining garlic and herb butter back over medium-low heat. Cook, stirring, until garlic starts to turn a very light golden brown, 3 to 4 minutes. Remove from heat and reserve.
Carefully transfer potatoes onto a serving platter and scatter over the golden brown slices of garlic. Crumble the toasted herbs on top if desired. Serve immediately.
---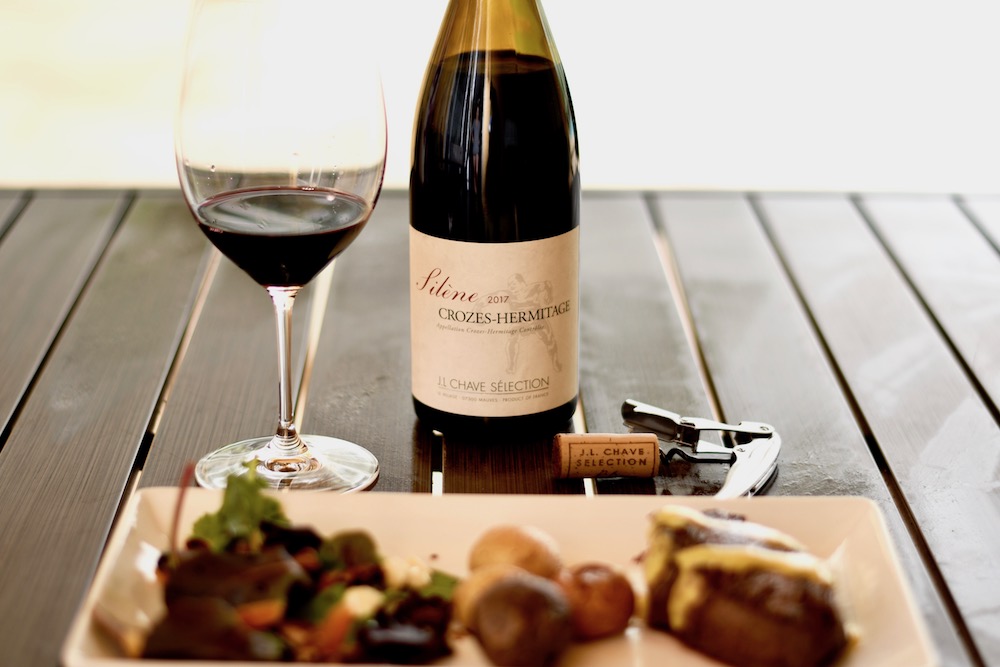 Que Syrah Syrah: Crozes-Hermitage Selection Silène 2017, Domaine Jean-Louis Chave | 100% Syrah
Every day I learn something new about wine. However, each day I also realize that I still know very little. If you're a wine newbie like me, I think that one of the first things you question is the high cost of certain wines and how to justify the expense. It's a safe assumption that if you have an opportunity to pay more for a wine made by a top producer, you should. However, if you can't, I am learning (thanks to Wine by the Bay) that some winemakers offer affordable choices that allow you to experience for example, a winemaker's expression of a vineyard or grape variety; or a winemaking style. These offerings also don't compromise quality for the sake of affordability.
You could say that today's wine is like the hamburger substitute for filet mignon – multiplied exponentially! Domaine Jean-Louis Chave wines fetch anywhere from $20.00 to more than $8,000.00 per bottle! Needing to taste a Crozes-Hermitage for the WSET 2 class, I luckily found myself at the lower end of the price spectrum. However, this wine is fantastic and since I'm nowhere near being one who can judge, I suggest you rely on these recommendations by two reputable wine critics: Erik Asimov and Josh Raynolds.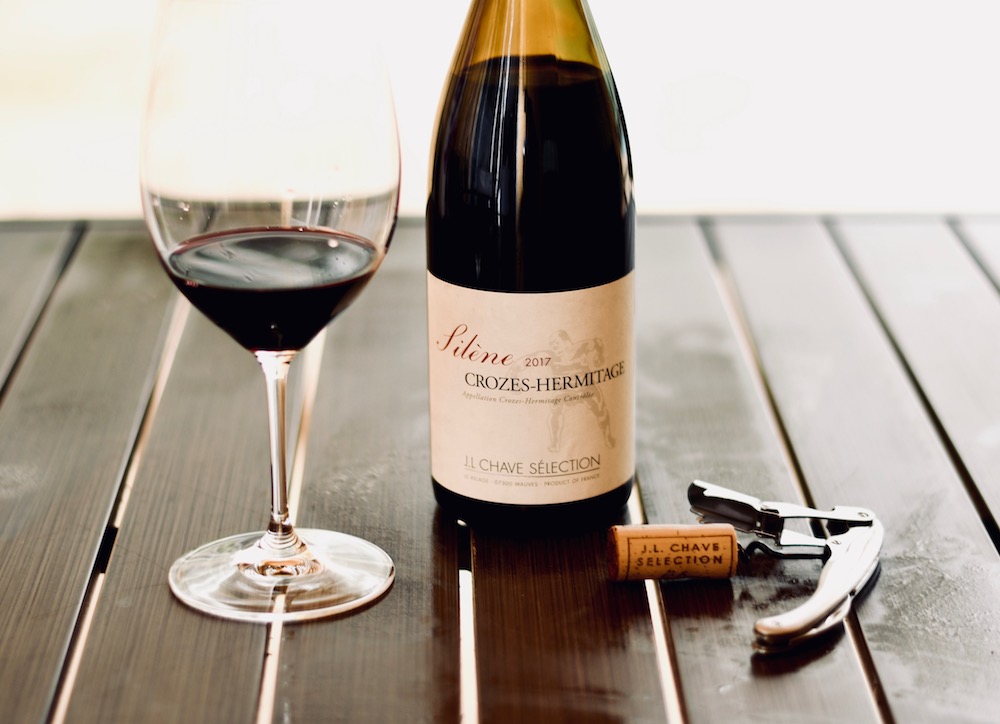 Bright violet. Mineral-accented cherry, boysenberry and smoky bacon aromas are complicated by suggestions of olive and candied flowers. Energetic and focused for the vintage, offering concentrated bitter cherry, cassis and violet pastille flavors braced by a spine of juicy acidity. Closes sappy, smooth and quite long, with sneaky tannins and a lingering suggestion of juicy black and blue fruits. Drink date: 2022-2030. Score – 92. ~ Josh Raynolds
---
The Whatever Will Be, Will Be Philosophy Isn't That Comforting
Freedom of choice, too many choices, making choices, and no choice. It's just too easy and I think irresponsible to say, "Que Sera, Sera?" Whatever choice you make today may greatly affect what happens tomorrow.
Freedom of choice is also freedom to decide when you do not want to choose. ~ Simona Botti.
@AllegoryPR #MyArtEscape