There's no connection really between the rom-com and wine. Just word nerd, wine newbie (hopeless romantic) me playing. I suppose we could make up some far-fetched, metaphorical association like, look beyond the superficial…but still, there's no connection.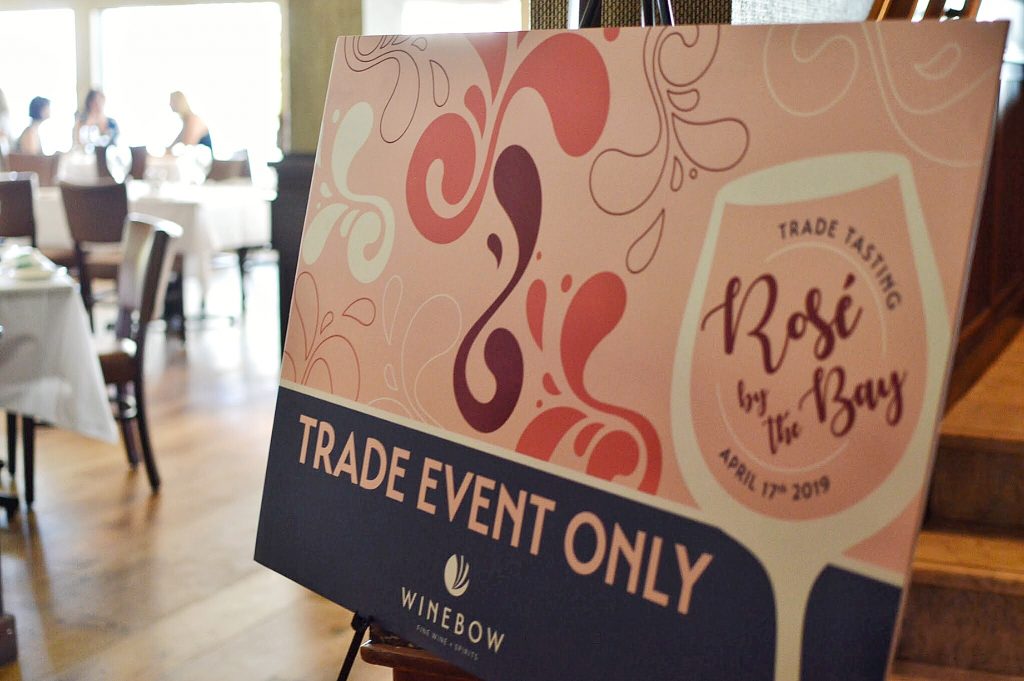 Just when I thought I knew something about rosé, I realized I wasn't even close after attending Winebow's #RosebytheBay held at Smith & Wollensky, South Pointe Park. Members of the wine trade were invited to discover over 100 rosé wines from Europe, South America, North America, Australia and South Africa.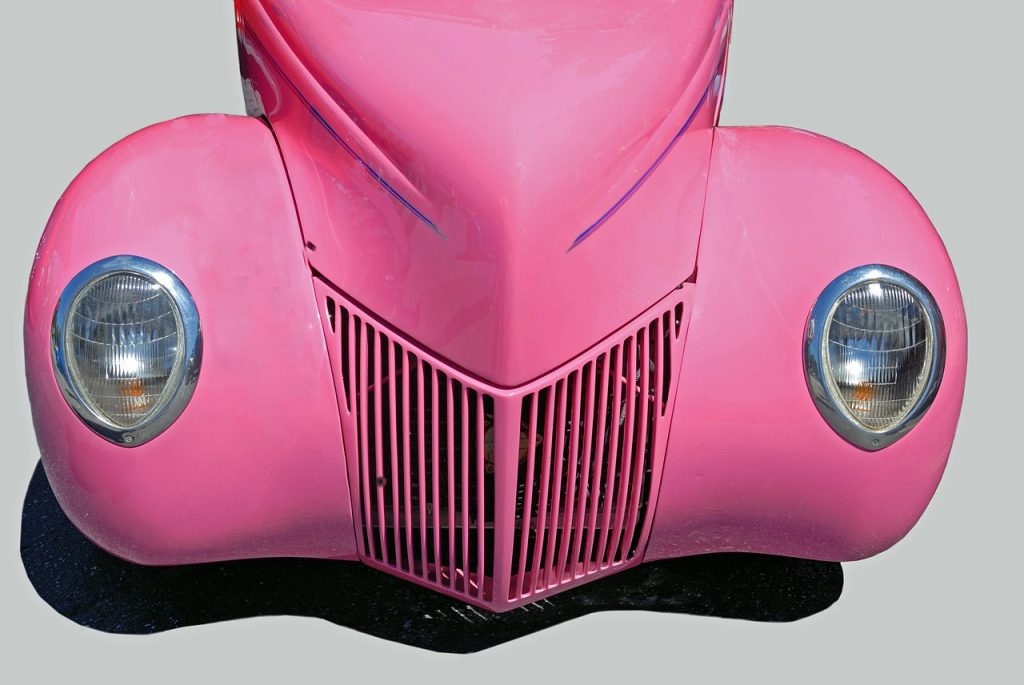 How does a wine newbie like me choose what to taste with over 100, various shades of pink? With such sleek branding, it's very tempting to be drawn to beautiful labels and bottle design. However, that's like choosing a car for its color. So, I tried to select between old world and new world; a region or grape variety that I may have read about, but had not tried; and what was easiest to reach because at times, there wasn't much elbow room. In fact, I totally missed seeing the wines from Australia and South Africa.
Some Wine Highlights
The fun part was that evening when I took a chance to learn more about what I drank and search for a good story. (If only I had each wine in front of me while reading and taking notes!)
France
As I had mentioned before, Côtes de Provence is France's oldest wine region and rosé, although different from what we know it as today, was the first type of wine produced there by Greeks who had brought the vines to the area. At the Winebow event, there were rosé wines from at least eight other regions of France.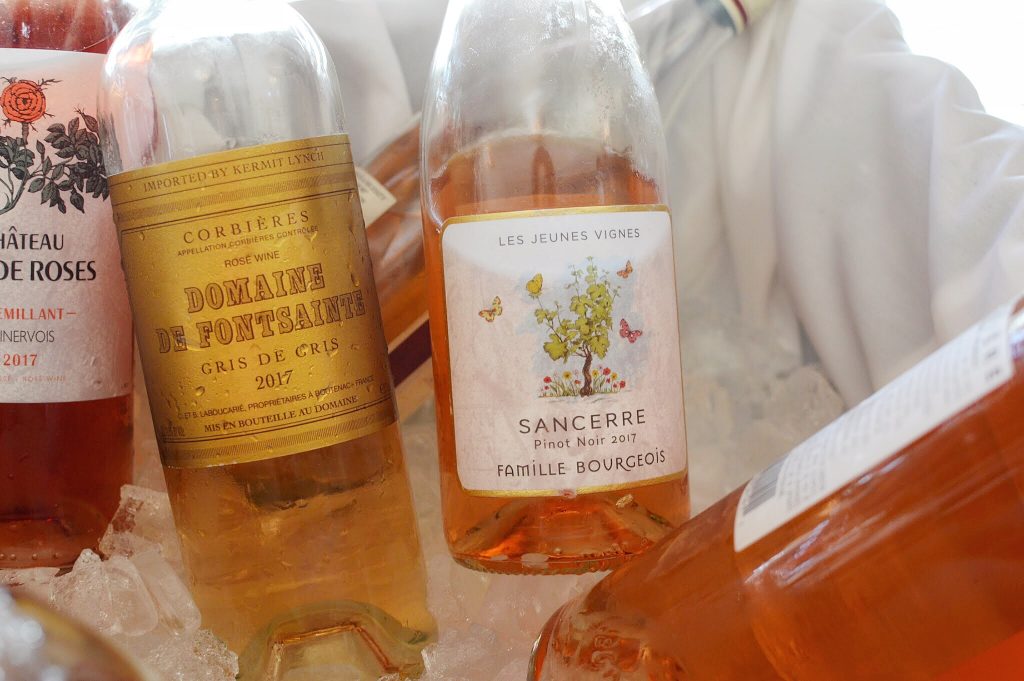 2017 Domaine de Fontsainte Corbières Gris de Gris: I chose this wine because I was attracted to its golden color and knew nothing about "Gris de Gris." Corbières is an important appellation of the Languedoc-Roussillon region of southern France. It is made up of five grape varieties: 50% Grenache Gris; 40% Grenache Noir and Carignan; 10% Cinsault and Mourvèdre. Yves Laboucarié established Fontsainte in its current incarnation in 1971 and is one among the first to use "carbonic maceration" which simply put, is when whole grapes are gently placed in an enclosed fermentation vessel and blanketed with carbon dioxide (Ch 5 of the CSW.) If you're curious about Grenache Gris or Noir, see this article. Read more about Domaine de Fontsainte here.
2017 Henri Bourgeois Sancerre Rosé Jeunes Vigne: While still only ankle deep into the CSW textbook, I've learned that Sancerre is not a grape (and I can now avoid a future soirée faux pas), but an appellation (see the link above) located in the Loire Valley. The grape BTW is Pinot Noir — indigenous to France, but grown elsewhere too. You can read all about the wine at this link.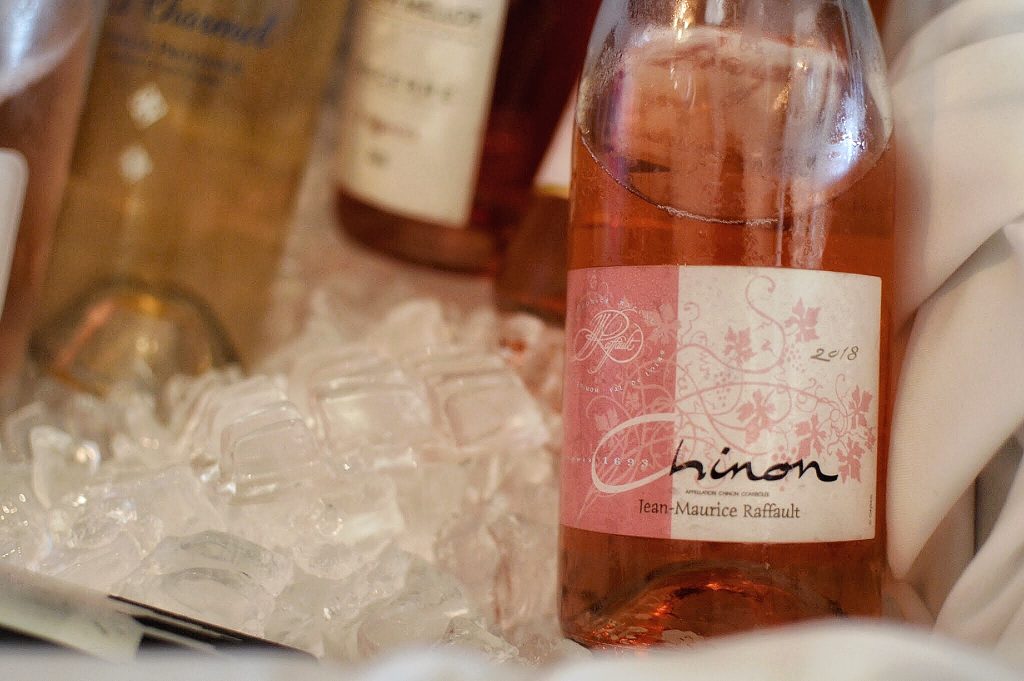 2018 Raffault Chinon Rosé: When the Wine Therapist (see note at the end) tells you, "drink this one," you do. Chinon like Sancerre is an appellation and Domaine Olga Raffault is stated as being, "one of the long-time reference points for top-quality, traditional Chinon wines." Left widowed when her children were very young, Olga would operate the wine estate with a German WWII prisoner who would eventually become the winemaker. If you enjoy a good story like me, click here. 100% Cabernet Franc. If you're new to wine like me, you may also wish to review, Saignée ("bled") rosé and the two other methods: maceration and blending.
Spain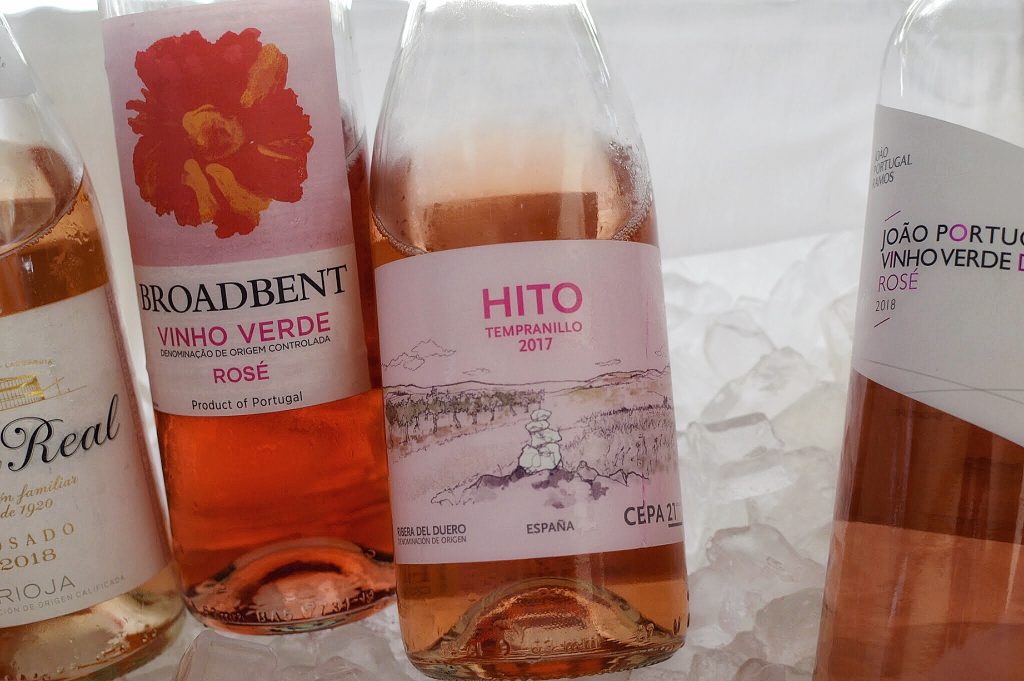 2018 Viña Real Rosado: I am not very familiar with Spanish wines, so I chose to try one from Rioja and another from Ribera del Duero. The Viña Real is made from Viura: 75%, Tempranillo: 15%, and 10% Garnacha (Grenache in French.) Viura is the most important grape from Rioja. In Catalonia it is called Macabeo and in Southern France, Macabeu. Read more about this grape here and the winery here.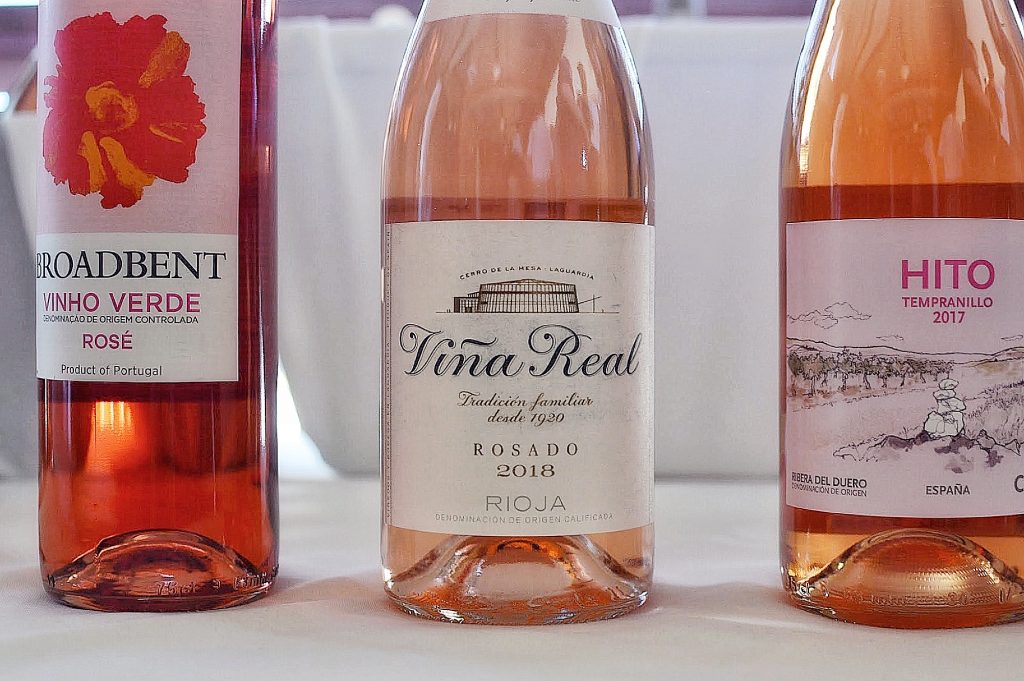 2018 Cepa 21 Hito Rosado: Made from 100% Tempranillo, Cepa 21 (Ribera del Duero) aims to get the most out of the grape's characteristics and of the unique environment where they are created. They use traditional methods, but customize them to modern trends. You can find out more about this young winery led by brothers José and Javier Moro at this link.
(Side Note: Future Spanish Wine and Blog posts to come, as I've just booked myself a trip to Spain!)
USA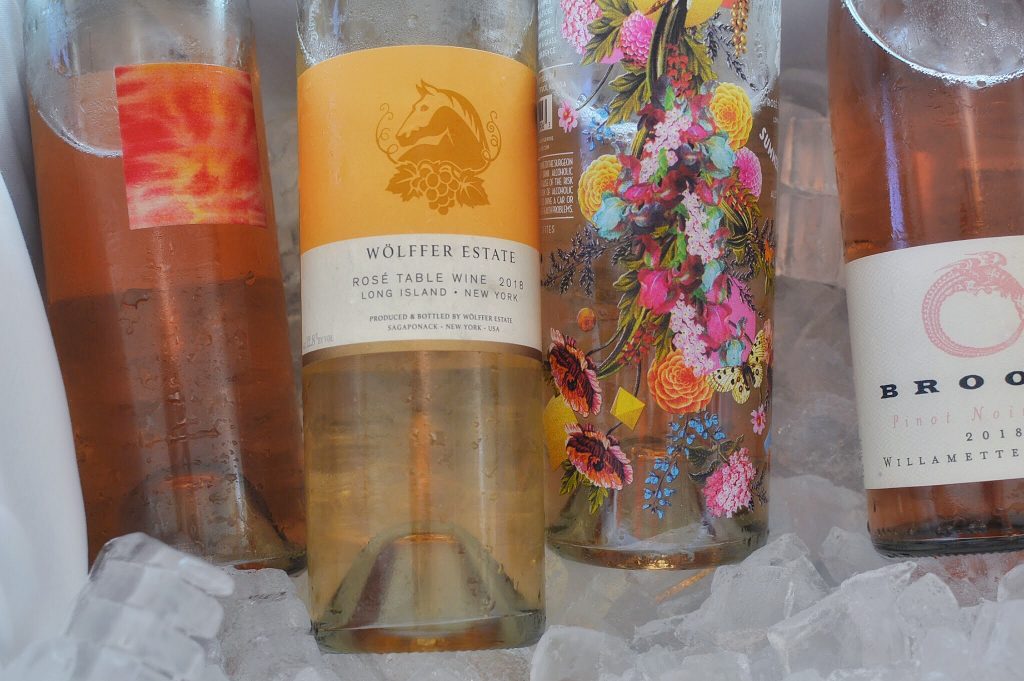 2018 Wölffer Estate Rosé: Long Island (Sagaponack) is the appellation and it is made up of: 52% Merlot, 20% Chardonnay, 13% Cabernet Franc, 11% Cabernet Sauvignon, 2% Sauvignon Blanc, 1% Riesling and 1% Pinot Noir. Read more about the estate here. This was the first time I've tried a wine from New York and I really liked it!
Italy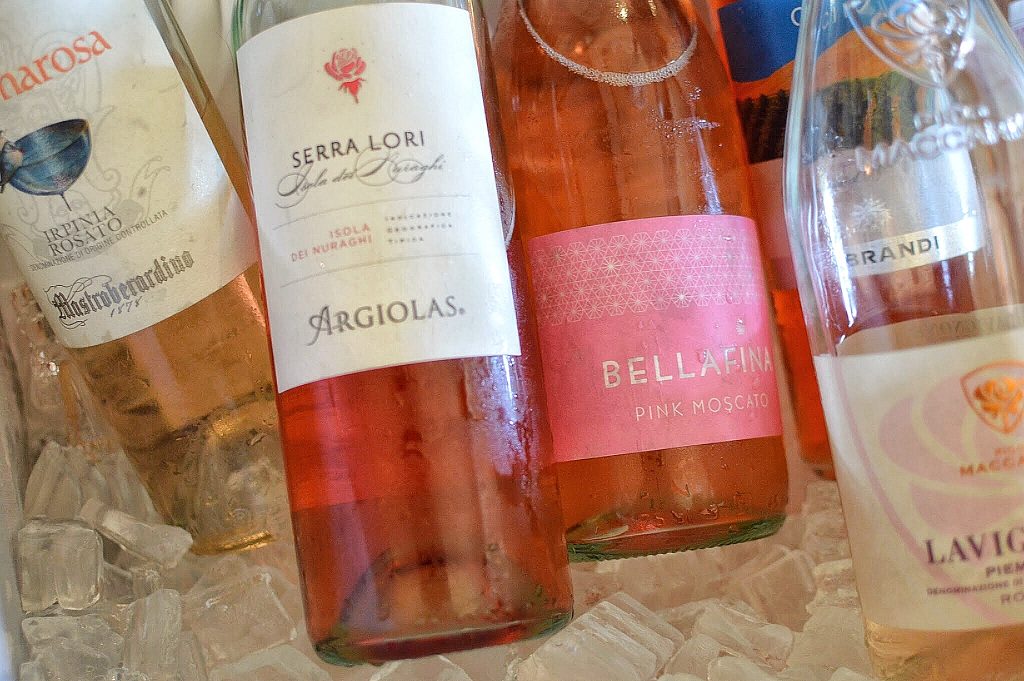 2018 Argiolas Serra Lori Rosato: Founded in 1938 by Antonio Argiolas, Argiolas is the foremost wine estate on the island of Sardinia producing archetypal wines from native varietals. Serra Lori is a dry rosato blended from Cannonau, Monica, Carignano, and Bovale Sardo. Read more here.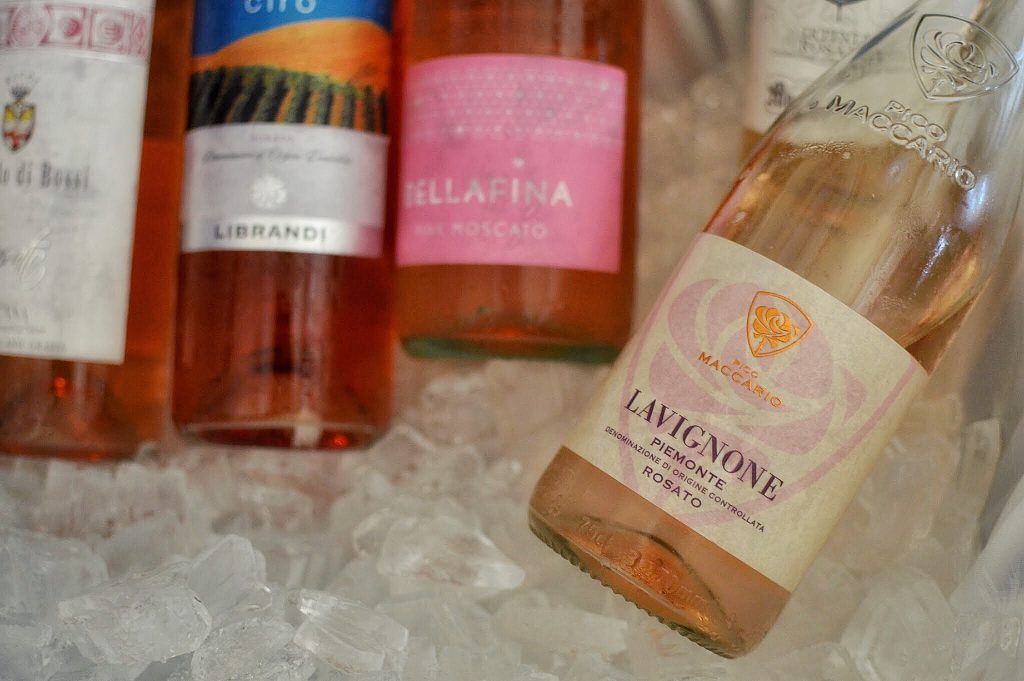 2019 Pico Maccario Rosé Lavignone Rosato Piemonte: The rose (flower) on the bottle symbolizes the estate where there are 4,500 rosebushes all from the same clone and there's one planted at the end of each vine row. Read the full story and details about this 100% Barbera wine here.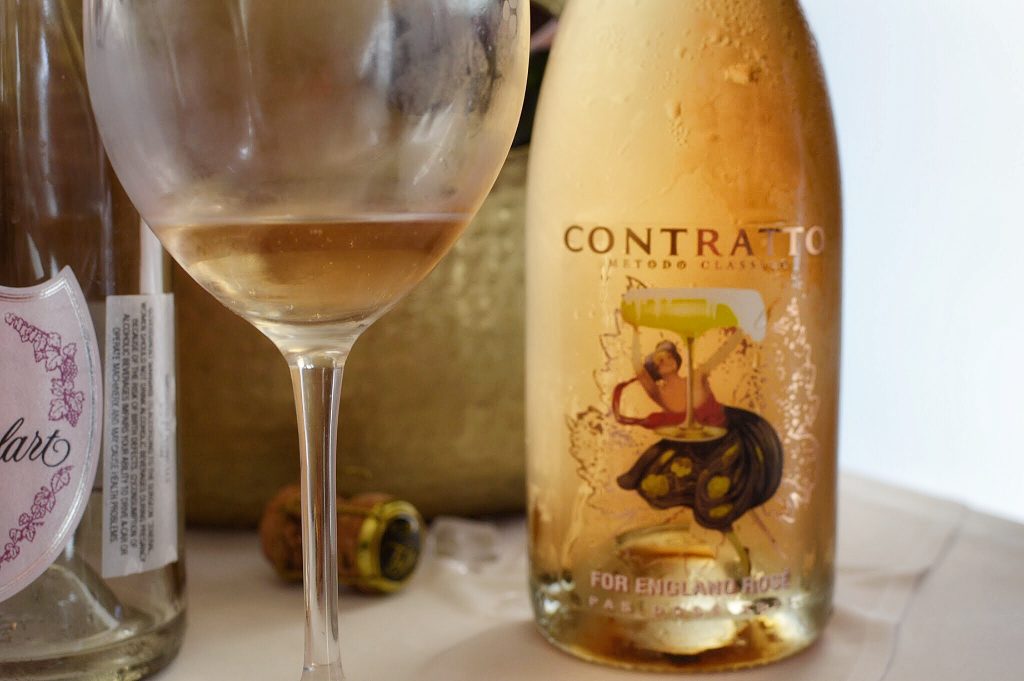 2011 Contratto For England Brut Rosé: Who can resist pink bubbles and surely, this wine must have been one of the best ones there! I think this says it all: old vine, 100% Pinot Noir, Metodo Classico aka Traditional Method, Méthode Champenoise, etc. Read more here. Someone spoil me: I'll take ten!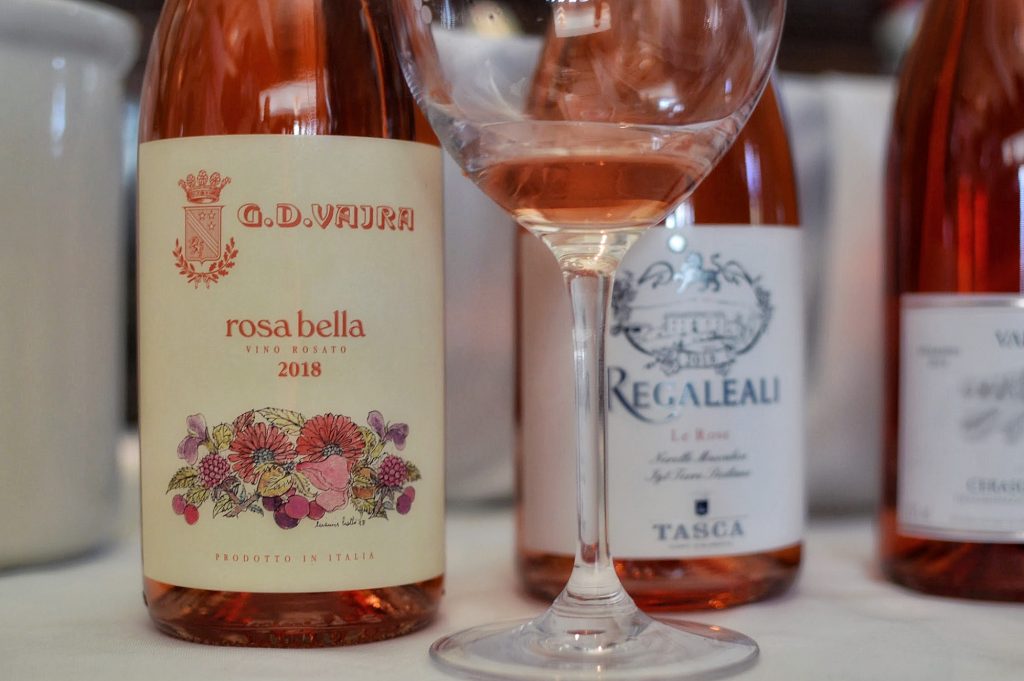 2018 GD Vajra Rosabella: "Tasting the wine is like seeing a star. If you only see a star, you've lost the beauty of the universe," says Aldo Vaira who made his first vintage when only 19 years old. From there, I encourage you to explore the rest. Here is the video and website at this link. Nebbiolo 85%, Barbera 5%, Dolcetto 10%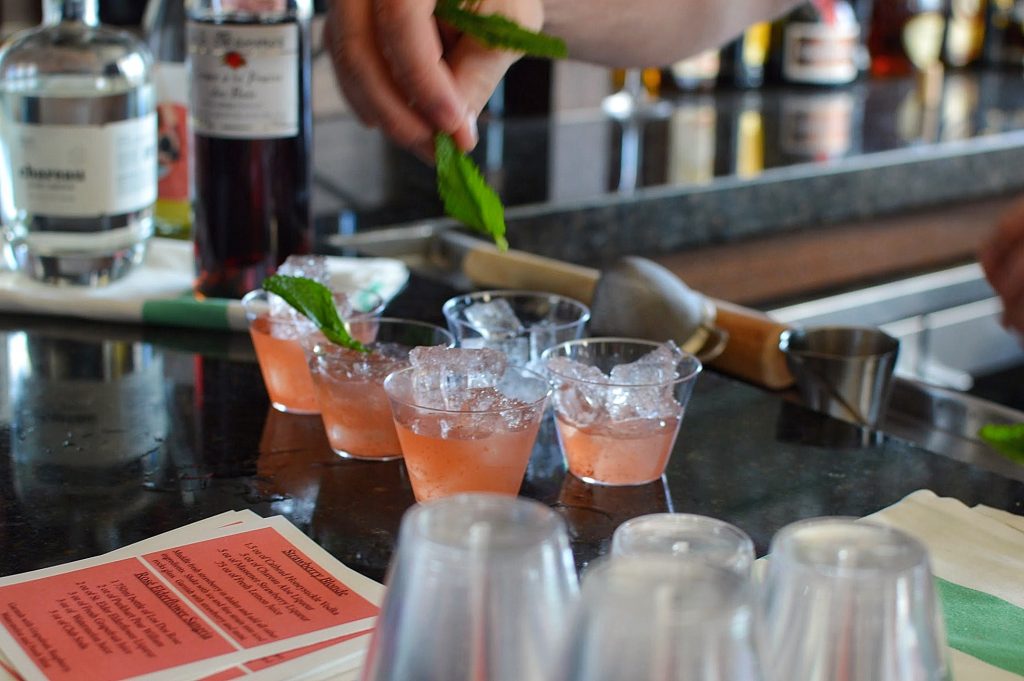 On that delightful note, it's best to wine-down this post.
Now two months into the CSW textbook, I'm finding that learning about wine gives me the same sensation as understanding a work of art. It begins with a visceral response, but then the true beauty reveals itself when an investigation begins. The pursuit of knowledge is infinite, or in the great words of Albert Einstein:
Two things are infinite: the universe and human stupidity; and I'm not sure about the universe.
Until next time, raise your glass and listen to what it tells you and know that at least when it comes to rosé, Summer is with you for as long as you want! (Oops, strike out paragraph 1!!)
@AllegoryPR #MyArtEscape
My wine journey would never have begun or continue without The Wine Therapist's (aka Stefano at Wine by the Bay) guidance. No wine passes from his hand to mine (or any of his loyal clients and friends) without an anecdote and a smile. Follow him at @WinebytheBay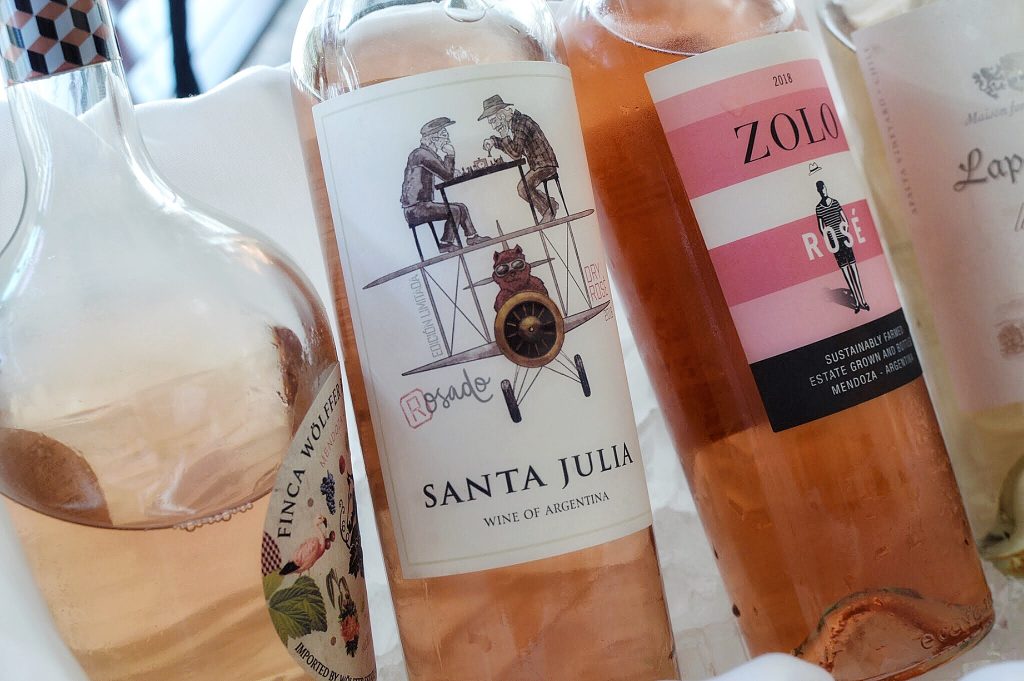 Postscript: There's no such thing as Rosé Season apart from marketing! Grapes (like any other fruit or vegetable) follow a growth and harvest season as it relates to its region's climate timeline. What differentiates wines are all of the other winemaking variables like fermentation. As you can see by the release years, most probably spent more time getting from their place of origin to your table, than in a bottle! What makes Summer a Rosé season is comparable to why you'd choose an iced latté over a hot one. It's poolside chill that pairs well with typical summer weather dishes.